Animal sculpture
[2007年08月27日]

 

In the 19th century, art lovers fell for a new form of sculpture where the animal was king. Animal sculpture is still popular today with price levels up by 100% over the last 10 years.

During the 19th century, animal art developed very quickly and became a fashionable medium. Love of hunting and discoveries made by naturalists helped make the bestiary a favourite theme for bourgeois curios. Firms like BARBEDIENNE or SUSSE made large quantities to meet rising demand from private clients. Novices are today faced with an avalanche of bronzes so it is necessary to assess the quality of the casting and check the numbering of each work.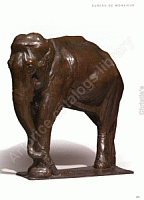 2006 was the year when Rembrandt BUGATTI was consecrated as the most sought after animal sculptor. For the first time, in Paris, a bronze sold for a record EUR 800,000. It was an Eléphant d'Asie au feuillage and was auctioned by Christie's Paris on 8 June. Six months later, this record was toppled in New York at Sotheby's by a Babouin Sacré Hamadryas estimated at USD 500,000-800,000 and sold for USD 2 million (more than EUR 1,515 million). Between 1999 and 2000, this same work went for between EUR 420,000 and 480,000 (FRF 3,150,000) notably at Tajan in June 2000. Bugatti is all the rage: his price indices have rocketed by +440% since 1997. It is now difficult to add a Bugatti to a collection for under EUR 10,000. Only an original plaster cast is still available between EUR 5,000 and 10,000 like the Chacal sold in Sotheby's Paris branch on 20 November 2006; even bronzes measuring around 20 centimetres easily fetch more than EUR 30,000.
Antoine Louis BARYE is an essential figure in the renewal of 19th century sculpture and is without any doubt the most prolific member of the movement with more than 200 pieces put up for sale each year. This generous output makes him accessible and the French market abounds in works of all sizes which sell for less than EUR 8,000.
His price levels collapsed in 2004 after a peak caused by over excitable bidding at a Christie's sale in New York on 25 April 2003. The sale witnessed a frantic battle between bidders for two sculptures of Thésée combattant le Minotaure, seconde version. The first, estimated at USD 40,000-60,000 was chased up to USD 240,000, a record for Barye. The second went for USD 160,000 compared to an estimate of USD 20,000-30,000…….the bronzes had different patinas and the more expensive one was numbered unlike the other.
2003 was also a bumper year for François POMPON. He worked as assistant to famous sculptors of his time like Rodin and Camille Claudel before producing the Ours blanc, his most valuable work. In December 2003, an old version of the Ours fetched EUR 89,000 in Pontoise (Martinot-Savignat-Antoine).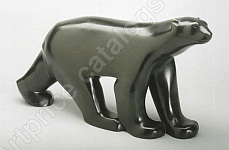 Recent success enjoyed by Bugatti, Pompon and Barye might wrongly suggest renewed interest in animal sculptors in general. Édouard Marcel SANDOZ's price levels, for example, have fallen 32% in 4 years. His bronzes are less successful than his unique, stone-carved sculptures. His best salesroom performance was in 2005 at Sotheby's NY when the granite Condor went for USD 150,000 or nearly EUR 128,000.
One of the most affordable artists is Charles VALTON: 90% of his works sell for less than EUR 4,000. A pupil of Barye, he specialised in feline sculptures which fetch more than the rest of his output. For example, a Lionne dormant, sold for EUR 7,500 on 24 May this year at Sotheby's Paris while the larger Cerf au brame went for only EUR 900 at Leroy, Paris one month later. Enthusiasts will find many works of Pierre-Jules MÈNE, Alfred DUBUCAND or Christophe FRATIN in the EUR 2000-3000 price bracket.