Animal sculptures stampede upward
[2004年01月14日]

 

The booming sculpture market of 1997-2003 brought an explosion in the prices of certain sculptors, including Rembrandt BUGATTI (+317%), Charles VALTON (+217%) and Édouard Marcel SANDOZ (+93%). Their gains were typical of the renewed market interest in animal sculpture. Overall, prices paid for animal sculptures rose by 50% between 1993 and 2003. But buyers should tread carefully as many artists now seem to have peaked, not least Rosa BONHEUR, Emmanuel FRÉMIET and François POMPON.

Animal sculpture price growth (1993-2003)Index base 1993 = 100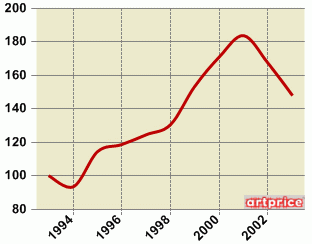 Since the start of the year, prices in the segment have dropped by 12% and volumes are down by a third over two years. Mainly, this reflects a sharp decline in the number of lots coming onto the stands. Collectors are as keen as ever. Correcting the imbalance between falling supply and constant demand, the bought-in ratio has fallen from 42.5% in 2002 to 29% in 2003.
Animal sculpture made its first appearance as a genre in the nineteenth century with the work of Antoine Louis BARYE, who remains far the movement's most prolific practitioner. Over 200 of his pieces are put up for auction each year, representing a fifth of the market on their own. This bountiful output makes Barye accessible. His prices may have risen 143% in five years, but half his bronzes still sell for less than EUR 4,000 apiece. The most sought-after pieces are those either cast in his own workshop or, after his death in 1875, at the Barbedienne foundry and stamped with the foundry mark "FB". Prices for Barye's work have never been so high and Christie's posted a new record on 25 April 2003, when Angélique et Roger, montés sur l'hippogriffe, seconde version, sold for USD 310,000 — four times its high estimate. The lot formed part of the break-up of a private collection of 160 Barye bronzes.
But the most expensive animal sculptor, ahead of Antoine-Louis Barye, is Rembrandt Bugatti. His Lion et lionne de Nubie went under the hammer for EUR 533,572 (3.5 million French francs) in 2000 at Delorme-Fraysse (Paris). Barely 20% of Bugatti's bronzes sell for less than EUR 30,000 and his prices now seem to have outstripped demand. After gaining 500% in five years, his price level dipped in 2003. Collectors looking to pay around EUR 2,000-3,000, can choose from numerous works by Pierre-Jules MÈNE, Alfred DUBUCAND, Charles VALTON or Christophe FRATIN. In this segment prices range from EUR 100 to EUR 500,000.