Artists who would have been 100 years old in 2023…
[2023年01月13日]

Sam Francis, Ellsworth Kelly and Larry Rivers, among others, were born just over a century ago, and are today considered to be the founding artists of Contemporary American art. Artmarket by Artprice pays tribute to them, briefly summarizing their careers and reviewing their market prices as well as current acquisition possibilities.
Larry Rivers
Larry Rivers is a versatile and difficult to classify artist: an accomplished jazz musician, painter, sculptor, poet, actor, television personality, filmmaker… As a visual artist, he participated both in the history of New Realism in France and the development of figurative art on the American East Coast. He is also considered an important precursor of American Pop art, being one of the first to paint everyday objects out of context. Andy Warhol never made a secret of his interest in Rivers' art, whose influence he clearly cites in the book "Popism", in which he says: "Larry's style of painting was unique – it was not Abstract Expressionism and it wasn't Pop, it fell into the intervening period. But his personality was very Pop."
Larry RIVERS was born in 1923 in New York's Bronx district to a family of Jewish immigrants from Ukraine. His career took off quickly: following his studies, he toured exhibitions in France, Italy and England, after which he returned to New York. In 1949, he presented his first personal exhibition at the Jane Street Gallery in New York. In 1951, Rivers' works were shown by John Myers at the Tibor Gallery in Nagy, which exhibited his work almost every year for a decade.
The climax of his career was reached in the 1990s through a wide variety of exhibitions, including a touring retrospective in the United States until 1992. In 1991, his work was included in the Pop Art exhibition at the Royal Academy of Arts in London and in the show American Realism and Figurative Art 1952-1991, an exhibition that traveled to five museums in Japan. In 1993, the Louvre in Paris hosted an exhibition titled Copier/Créer de Turner à Picasso, 300 Oeuvres inspirées par les Maîtres du Louvre (Copy/Create from Turner to Picasso, 300 Works Inspired by Louvre Masters) that included several of his works. He has also shown at the Museum of Contemporary Art in Los Angeles, at the Whitney Museum in New York, at the Venice Biennale and at the Marlborough Gallery in 1993.
However, despite substantial notoriety and recognition as having played a key role in 20th century art history, some paintings by Larry Rivers are no more expensive than those of current-day auction debutants: several large paintings (measuring approximately 1 meter diagonally) were sold for around $20,000 each last year. His prices vary enormously according to the periods and the styles of creation.
Auction record
$2 million, for Africa I (1961/62), a canvas from the Collection of Madame John L. Marion, sold by Sotheby's NY in May 2021.
Painting prices in 2022
Most of his paintings sold at auction last year fetched between $12,000 and $120,000.
Global position
Larry Rivers holds the 1,552nd place in the global ranking, with an annual auction turnover of $595,000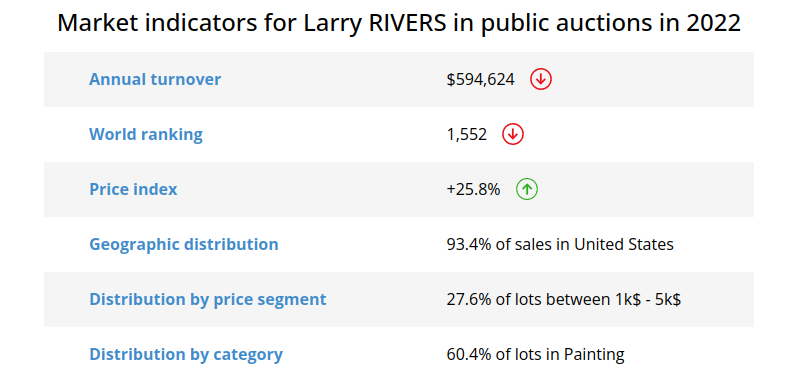 Ellsworth Kelly
The primary driver of a new radical American abstraction, the art of Ellsworth KELLY influenced a whole generation of artists interested in minimal art. After five years of art studies and two years of active service during the 1940s, Kelly went to Europe and Paris (from 1948 to 1954) where he created his first relief-painting. Equally interested in the relationship between the art and architecture of the churches he visited as in that between Byzantine mosaics and Kandinsky's abstract works, Kelly was also influenced by the work of revolutionary artists like Picasso, Matisse, Delaunay, Brancusi, Arp and Calder, who became his friend. It is also thanks to Alexander Calder's support that Kelly gained notoriety in the United States, his friend introducing him to the Directors of the MoMA and the Guggenheim Museum. In 1957, Ellsworth Kelly participated in the Young America 1957 at the Whitney Museum in New York, which acquired one of his works, thereby consolidating his institutional recognition. In the early 1970s this recognition was further consecrated by a retrospective organized at the Museum of Modern Art in New York: Kelly became an absolute reference in the landscape of Contemporary American art.
Although Kelly's painted canvases and painting-reliefs sometimes fetch multi-million dollar results, unique works by the artist can be acquired for roughly a thousand dollars, via his production of collages on postcards.
Auction record
$9.8 million for Red Curve VII (1982), sold at Christie's NY in November 2019.
Painting prices in 2022
Four canvases sold over the past year for prices ranging from $1.98 million to $4.28 million.
Global ranking
An unavoidable signature of the American market, Ellsworth Kelly ranks 137th in the global ranking by annual auction turnover with a total of $11.5 million in 2022.
Ellworth Kelly: turnover at auction in millions of dollars (copyright Artprice.com)

Sam Francis
Compared with Ellsworth Kelly, Sam FRANCIS expresses another dimension of American abstraction through a spontaneous and instinctive informal painting, allowing him to transcend a traumatic personal experience through the creative process. Enlisted in the army in 1943 to train as a pilot, his plane crashed in the Arizona desert during a training flight and he was hospitalized for over two years. During his hospitalization the doctors diagnosed him with spinal tuberculosis. He began painting what he saw in his hospital room: the light and its spectrum, the reflections of the outside world, the variations in luminosity on the walls. After his hospitalization, he met Clyfford Still, a pioneer of informal painting, with whom he took classes at the California School of Fine Arts in San Francisco. Also influenced by the instinctive work of Jackson Pollock, Sam Francis was close to the second generation of Abstract Expressionists, notably Joan Mitchell and Helen Frankenthaler, while not claiming to belong to any current.
Although there were several distinct periods in his creativity, he turned increasingly towards spirituality, to the point of creating ephemeral paintings that involved propelling paint into the sky, and then painting mandalas towards the end of his life.
Thanks to the owner of the Bernese gallery, EW Kornfeld, Francis took up lithography in 1960. His large format works required the use of virtuoso printers on lithographic limestones. Over the years, he focused less on form and shape and allowed white to invade the space, relegating color to the edges; but he subsequently returned to using color all over the available surface. He produced some 300 lithographs, as well as aquatints, etchings and monotypes. These works are kept in some of the most prestigious museum and institutional collections around the world.
Auction record
Sam Francis' auction record was revised last year to over $13.5 million, more than double the high estimate, for a 1955 large blue composition (Composition in Blue and Black) that was part of the collection of Microsoft co-founder Paul G. Allen (the first private collection to reach $1 billion at auction (Christie's, November 2022)).
Painting prices in 2022
His small-format acrylics sell for around $50,000 at auction, but works measuring over a meter usually sell for between $100,000 and $500,000, and his largest works have generated multi-million dollar results.
Global ranking
Sam Francis is among the Top 100 best performing artists in the global auction market, with over $26 million in auction turnover in 2022.