Bad painting – In praise of "bad taste"
[2007年09月04日]

 

Bad Painting emerged in the United States at the end of the 1970s and flourished in the 1980s. The "Bad boys" of painting are Jean-Michel Basquiat, Neil Jenney, Kenny Scharf, Julian Schnabel, Malcolm Morley, David Salle, Jonathan Borofsky and Donald Sultan. They glory in the bad taste of their work, draw inspiration from fringe and popular culture, introduce various materials into their paintings, and play on excessively thick layers and clashing colours. This reversion to expressionism in painting staked out its territory in opposition to the period's established codes of austere minimalism and conceptual art.

The term Bad painting first appeared in 1978 to announce a Neil JENNEY exhibition. Jenney's paintings, composed with broad brush strokes, go for between EUR 30,000 and 50,000 on average for canvases measuring less than a metre; larger paintings can fetch as much as EUR 200,000. Julian SCHNABEL, another enthusiast of thick layers, boasts a variety of talents: painter and filmmaker, his latest film "Le Scaphandre et le papillon" won the prize for Best Director at the 2007 Cannes Festival. The artist achieved fame in the 1970s by starting a Plate-painting series, canvases encrusted with fragments of smashed plates. These works are the most sought after by collectors. This much is proved at auctions: Plate paintings can sell for three times more than oils or acrylics of the same size and from the same period. Last June in London, the three rival auctioneers (Christie's, Sotheby's and Phillips, de Pury & Company) each presented a Schnabel work. The paintings presented by Sotheby's and Christie's went for GBP 32,000 and 48,000, whereas Stella, the plate painting, fetched GBP 100,000, or nearly EUR 150,000 (Christie's London). In November 2006, at a sale in New York at Phillips, de Pury & Company, a huge work of almost 4 metres from the same series sent bids soaring to USD 720,000 (more than EUR 560,000), a record for the artist. Less spectacular works are available for less than EUR 30,000 like the acrylic from 1987 sold in February 2007 for USD 20,000 or approximately EUR 15,000 (Christie's NY).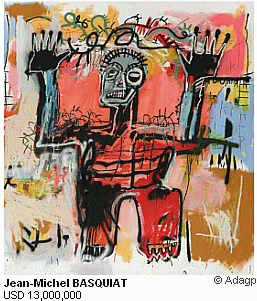 The start of the 21st century is notable for a revaluation of contemporary painting and Bad Painting has largely benefited. Emulation of Jean-Michel BASQUIAT, who represents Bad painting just as much as graffiti, has galvanised the entire movement. Basquiat's reputation is already made: 48 of his works sold for more than a million dollars between January 2000 and July 2007. Other recent records include Malcolm MORLEY's Christmas Tree which fetched USD 460,000 (more than EUR 515,000) in May 2001 at Sotheby's NY. David SALLE's previous record was toppled in 2006 in New York. Sotheby's sold Vagrant for USD 500,000 (roughly EUR 390,000). Salle's price levels are very healthy with a 100% increase since 2003; this has prompted some collectors to put their paintings up for sale. For example, the dyptych Couple of Centuries bought for USD 70,000 (EUR 65,700) in May 1999 at Christie's was sold for USD 120,000 more in 2005 in the same house (more than EUR 160,000). Another indication of the trend's excellent health is Kenny SCHARF: his first work to be auctioned for more than USD 100,000 was in 2005 and he beat this three times the following year.
Lovers of Bad painting can find works measuring more than a metre by Salle, Kenny Scharf or Schnabel for between EUR 20,000 and 30,000. For less than EUR 10,000, they should look at Donald SULTAN and Jonathan BOROFSKY.