Christie's: memorable results in 2022
[2023年01月06日]

In 2022 Christie's handled a remarkable quantity of exceptional masterpieces and generated lots of new records. Artmarket by Artprice focuses on some of the results that made 2022 such an extraordinary year.

At the end of 2022, Christie's announced it had just achieved a record year with a total turnover of 8.4 billion dollars, including $1.2 billion from private sales and $7.2 billion from auction sales (all categories combined: art, objects, wine, jewelry, etc.). Its turnover from Fine art was substantially boosted by the sale of a collection put together by Microsoft's co-founder, Paul G. Allen, containing masterpieces from the Renaissance to the cutting edge of Contemporary art, which generated $1.6 billion on November 9 and 10. Five lots from the Paul G. Allen collection crossed the $100 million threshold: Georges Seurat's Les Poseuses, Ensemble (Small version) at $149,240,000, Paul Cézanne's La Montagne Sainte-Victoire at $137,790,000, Vincent van Gogh's Orchard with Cypresses at $117,180,000, Paul Gauguin's Maternity II at $105,730,000 and Gustav Klimt's Birch Forest at $104,585,000. No previous art sale had ever achieved such exceptional results. But Christie's also managed to hammer a whole series of exceptional results in other sales during the year.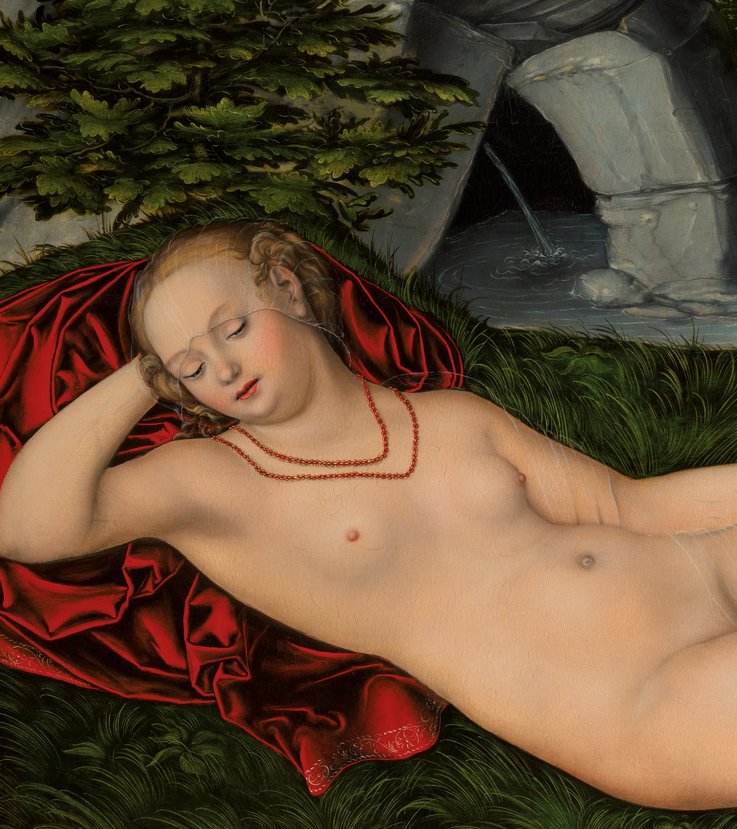 Lucas Cranach the Elder, The Nymph of the Spring (detail)
.
Andy Warhol
On May 9 in New York, Andy Warhol's emblematic Shot sage blue Marilyn (1964) became the most expensive 20th-century artwork ever auctioned, fetching $195 million. The work was sold by the foundation of prominent collectors Thomas and Doris Ammann. Its title refers to a now notorious incident when performer Dorothy Podber asked to "shoot" four canvases of Marilyn stacked against the wall of Warhol's studio. Assuming she wanted to photograph the works, Andy WARHOL agreed, but Podber pulled out a gun and fired live ammunition at them.
Jeff Koons
Jeff KOONS spent seven years perfecting the size, shape and color of Balloon Monkey (Magenta) (2006-13), which fetched $12.3 million on June 28. The sculpture was donated by collectors Victor and Olena Pinchuk, with proceeds from the sale going to humanitarian aid in Ukraine. Jeff Koons' prices have lost momentum in recent years; in 2014 an orange version of the same sculpture was worth twice as much ($25.9 million, November 12, 2014 at Christie's).
Ernie Barnes
On May 12, a painting by Ernie BARNES fetched $15.2 million at Christie's 20th Century Art Evening Sale. Bidding for The Sugar Shack lasted over 10 minutes, driven by 22 competing bidders. The final price was 76 times the high estimate ($200,000) and approximately 28 times Barnes' previous auction record ($550,000 for his Ballroom Soul).
Francis Bacon
In the three decades between 1962 and 1991, Francis BACON produced 28 large triptychs, each measuring 198 x 147.5 cm. Almost half are in museums around the world. On March 1, 2022, Christie's offered Bacon's Triptych 1986-7 in its 20th/21st Century London Evening Sale. The work depicts, from left to right, US President Woodrow Wilson, a figure resembling Bacon's then-partner John Edwards and a strange oversized object that suggests Leon Trotsky's bloody, cloth-covered recording equipment. Selling for $51.2 million, it fetched Bacon's seventh best-ever auction result for a triptych.
Michelangelo
A forgotten drawing by MICHELANGELO, measuring 33 x 20 cm, was rediscovered by specialist Furio Rinaldi in a French private collection in 2019. The long-lost work is a study of a figure in a Masaccio fresco in Florence's Brancacci Chapel. Offered at Christie's in Paris in May, it demolished the artist's previous auction record by fetching $24.3 million.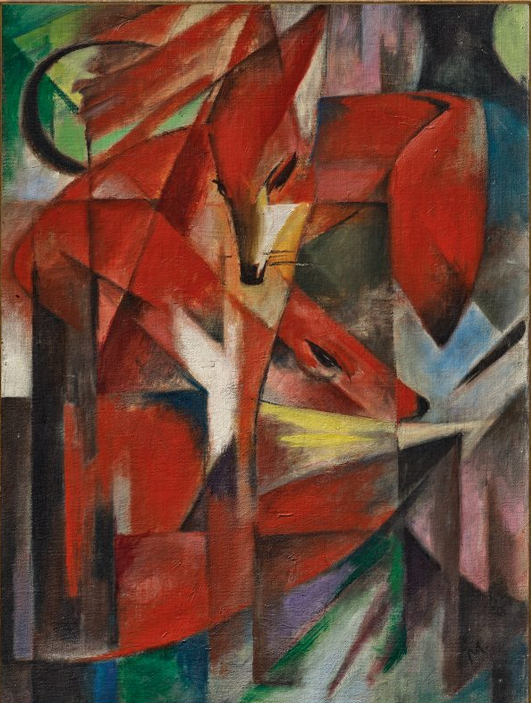 Franz Marc, The Foxes
Franz Marc
According to Christie's Head of Impressionist and Modern Art in London, Keith Gill, "1913 was a key year for Franz MARC: he experimented with a new dynamic visual language, inspired by Orphism and Futurism, which became his springboard towards abstraction". One of the most remarkable testimonies of his work from this period is his painting The Foxes (Die Füchse) which was also offered in Christie's 20th/21st Century London Evening The Foxes Sale on March 1. This superb painting fetched $56.8 million, a new record for the artist. Spoliated during the Second World War, in 2021 it was returned by the city of Düsseldorf to the heirs of the Jewish banker and businessman Kurt Grawi and his wife Else.
Lucas Cranach
On July 7, a large work by Lucas I CRANACH (1472-1553), The Nymph of the Spring, fetched $11.3 million at Christie's Old Masters Evening Sale in London. Painted between 1540 and 1545, it is the largest and arguably the most ambitious of the German painter's 12 extant nymph paintings. The artist's auction record is still held by his La Bocca della Verità (The Mouth of the Truth), a canvas sold for nearly $15 million in July 2015 by Sotheby's.
Man Ray
One of the most recognized images in 20th-century art, MAN RAY's Le Violon d'Ingres (1924) was offered in Christie's New York sale The Surrealist World of Rosalind Gersten Jacobs and Melvin Jacobs last May. This unique gelatin silver print fetched $12.4 million in New York, the highest price ever hammered for an art photograph. Cindy Sherman's record currently stands at $6.7 million, while Andreas Gursky's is $4.3 million.