Contemporary photography: prices surge in this more selective and transparent market
[2002年06月13日]

  In a market segment which attracts young collectors hammer prices rise and fall in line with sales. Despite being a particularly unstable market, contemporary photographers have commanded steadily rising prices in recent years. But prices are still influenced by economic swings and speculation. The talent of these artists is not yet rooted in art history or in the market. Selection is particularly tough. The current craze among collectors has made stars of many young photographers…but how many will retain their new-found status? The exceptionally high prices reached by some are no guarantee that these will be lucrative investments in the long term. On the other hand, in the very short term, market prices fluctuate so much that many photographers can yield big profits. As with Cindy SHERMAN (a leading figure in plastic photography) prices can double in a year before suddenly plummeting. Since most contemporary photographers have been present on the secondary market for only a short time, inferring an accurate synthetic price for these young artists is a risky business.

Between June 1997 and June 2002, prices for contemporary photography rose by 140%, making it one of the fastest-growing segments in the art market. Rising prices for contemporary photography boosted turnover in the segment tenfold over the same period. The top selling photographic artist in 2001 was Andreas GURSKY (46). After a series of groundbreaking sales at auction he exemplifies the current enthusiasm for contemporary photography among American collectors. In February 2002 his Untitled V fetched a record EUR 635,263 (GBP390,000) at auction – double its highest estimates – graphically confirming investor confidence in this artist. This proved the trigger for a string of record sales by photographers since January 2002. Top prices were paid for works by Rineke DIJKSTRA (EUR 395,064 on 14 May 2002), Thomas STRUTH (EUR 307,272), Helmut NEWTON (EUR 181,232), Thomas DEMAND (EUR 131,688) and Irving PENN (EUR 69,620). It seems the market is beginning to carve out a canon of top contemporary photography comprising the best artists and artworks.

Doubts about quality and the financial risks attached to buying contemporary prints have made buyers more cautious. For the past year investors have been looking for safer investments, concentrating on the better-known names. Quality is at a premium. And less renowned photographers and lower quality prints have quickly fallen out of favour at auction. The bought-ins ratio rose from 17.6% to 42.8% between 1998 and 2001. That said, prices broadly stabilised in 2001 and have surged since the beginning of 2002, which is likely to be reflected in forthcoming sales. The auctions of contemporary art organised by Sotheby's and Christie's in London for 27-28 June should set the tone.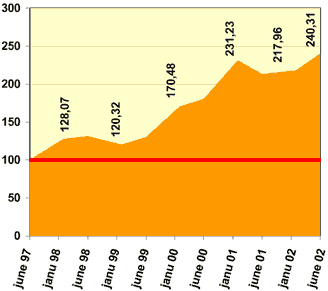 Price index for contemporary photography
base 100 in june 1997
USD 100 invested in contemporary photography in june 1997 is worth USD 240,31 at june 2002