Djazaïr: French orientalists honoured during Algeria Year
[2003年11月25日]

 

France has seen a dramatic increase in the number of cultural events to celebrate Algeria Year, which include three major exhibitions of orientalist art: "De Delacroix à Renoir, l'Algérie des peintres", at the Arab World Institute (until 18 January 2004), "Fantaisies du Harem et nouvelles Schéhérazade" at Lyon's Natural History Museum (until 4 January 2004) and "De Delacroix à Matisse – Dessins du musée des Beaux-Arts d'Alger" at the Louvre (until 19 January 2004).

The orientalist movement emerged in France around 1830, inspiring such artists as Antoine Jean GROS, Eugène DELACROIX and Théodore CHASSÉRIAU, continued throughout the 19th century with, among others, Horace VERNET, Constantin GUYS, Guillaume BODINIER and Eugène FROMENTIN, before finally fizzling out in the 20th century in the hands of artists like Etienne Alphonse DINET and Jacques MAJORELLE.

French orientalism paintings price growth
(January 1997 – July 2003)Base January 1997 = 100, currency: EUR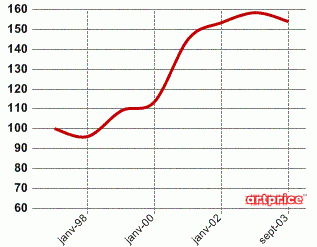 From a market perspective, the movement can claim to generate attractive and steady profits. Although slightly in decline since the start of the year, prices for French orientalists rose almost 70% between 1997 and 2002, equating to an average annual increase in excess of 9%. orientalist pictures have proved increasingly popular at auction, and France saw 205 sold for a total of EUR 4.7 million in 2002. Collectors continue to multiply, interested more in themes (harem scenes, desert landscapes, oriental oases and towns, street and crowd scenes, images of hunting, stunning contrasts bathed in warm light) than particular artists, as there is no orientalist School in the real sense.
Some artists' indices rocketed between 1997 and 2002, with prices for Germain Fabius BREST and Eugène FROMENTIN up by 214% and 147%, respectively. Besides the big-name artists like Delacroix and Chasseriau, this segment abounds in oils by minor masters, which collectors can acquire for less than EUR 5,000. Some enthusiasts picked up even cheaper works in the last orientalist sale organised by the Gros -– Delettrez auction house on 16 and 17 June 2003, with Emile BOIVIN's Caravane au bord de l'oued going for EUR 4,000, La halte des chameliers by Honoré BOZE for EUR 1,700 and Folop's Cavaliers for EUR 3,300. In the higher price ranges in the same sale, Campement dans le désert by Eugène Fromentin and La Difa, fête marocaine by Jaques Majorelle both exceeded their high estimates, fetching EUR 21,000 and EUR 84,000 respectively.
Collectors with an interest in orientialists should really not miss the two excellent-looking auctions to be held by the Claude Agutte and Gros – Delettrez auction houses on 15 and 16 December.