Dora Maar at the Tate Modern
[2020年01月28日]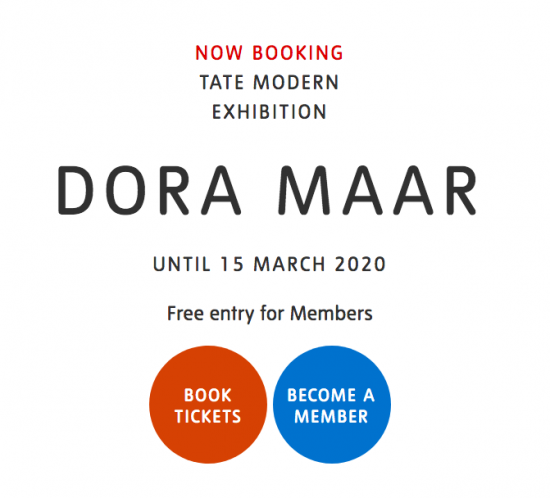 A committed artist and intellectual, Dora Maar was recognized during her lifetime, signing commission contracts, publishing in numerous magazines, and exhibiting works alongside the 1930s avant-garde. After her relationship with Picasso ended, her distress and deep depression cut her off from others. She voluntarily isolated herself, but her activity remained intense and she devoted over forty years to painting. Unfortunately, the majority of her work has been forgotten. Worse still, her name is usually only mentioned in the context of her relationship with Pablo Picasso, for whom she was a companion and a muse for eight years. More than twenty years after her death, a retrospective at last sheds light on the quality and variety of her work.
A
n artist of her time
Dora MAAR acquired a solid artistic training, studying at the Central Union of Decorative Arts then at the Technical School of Photography and Cinematography in Paris, but also at the Julian Academy and at the École des Beaux-arts, which – a rare thing at the time – was offering the same courses to women and men. Her temperament quickly led her towards the essential artists and thinkers of her era: André LHOTE (with whom she painted), BRASSAÏ (with whom she shared a dark room), Jean Renoir (for whom she worked as a still photographer) and George Bataille (her lover).
Determined and talented, she published her first image at 23, then worked for Jean Patou, Lanvin, Chanel and Schiaparelli as a fashion photographer. In addition to this commissioned work, the young Dora often took her camera to the streets and managed to capture photographs of social life with an imaginary, almost fairy-tale, dimension. When she composed her first photomontages in the 1930s, she became an integral part of the Surreal avant-garde and exhibited several times with Man Ray and Hans Bellmer. When Pablo PICASSO entered her life in 1936, she abandoned photography for painting. But it was after their breakup in 1943 that she really became a painter… for over forty years. After her death in 1997, her little-known œuvre was sold at auction, dispersed among hundreds of collectors… before even being inventoried.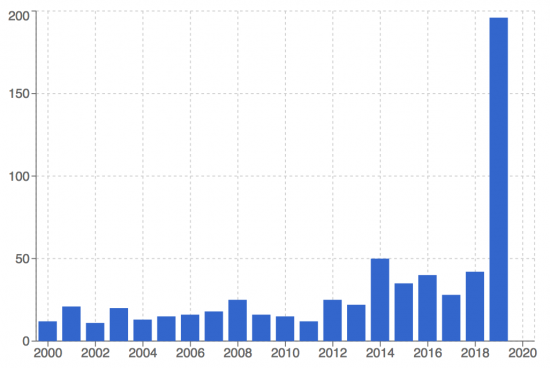 Dora Maar – Lots sold at auction since 2000. The peak coincides with the exhibition at the Center Pompidou (Paris). Copyright Artprice.com
A market 'influenced by…'
In the two years following Dora Maar's death, a superb collection of 600 works – including 255 paintings – was submitted to the law of the highest bidder. Most of the canvases fetched a few hundred dollars, but a few soared to substantial prices, particularly those that included a depiction of her famous ex-lover. In the fall of 1998, the French sales company Piasa sold three portraits representing Pablo Picasso for more than $50,000 each.
Nowadays, Dora Maar's portraits of Picasso are rare commodities that are increasingly sought after. So the acquisitions made during that 'workshop sale' were exceptionally good investments and some have already generated superb capital gains. The most expensive painting from the Piasa sale in 1998 (Portrait de Pablo Picasso, 1936) still holds the auction record for a Dora Maar work today, but at $711,000 since its resale at Sotheby's in 2009, versus the $58,000 paid 10 years earlier. This record rewarded a work that pays homage to Picasso in both form and content. In fact, aficionados of her work are ready to pay a high price for a Dora Maar work that is clearly 'influenced by' the great master, just as they will favor a canvas by Jeanne Hébuterne if it shows stylistic proximity with the work of her companion Amedeo Modigliani.
Needless to say, the difference in price between the work of the two artists is enormous: Maar's auction record of $711,000 for her Portrait of Pablo Picasso compares with between 20 and 25 million dollars for a Picasso portrait of Dora Maar from the same period (Buste de femme (Dora Maar), $22.6 million, Christie's New York, 2016). And… whereas even the slightest sketch by the great Spanish master sells for at least a few thousand dollars, a few hundred are enough to obtain a handsome abstract composition by Dora Maar.
The market for her photographs is sustained by a "very varied corpus, between her commercial work, her Surrealist work and here late work", comments Sotheby's specialist Jonas Tebib. The favourites for collectors are still her Surreal photo-montages, particularly one entitled Les années vous guettent (The years are catching up with you) (1932). This fantastic image superimposes a spider's web on Dora's face, the silhouette of the arachnid acting as her third eye. Quintessentially Surrealist, that photograph reached $350,000 at Christie's in 2015 (3x its value 10 years earlier), not far behind Hans Bellmer's auction record for a photo of $374,500 (Self-Portrait with Die Puppe). So… when it comes to Surreal photography, Dora Maar is on an almost equal footing with her male counterparts
Re-recognition…
Dora Maar's market has been reactivated in recent months by a travelling exhibition inaugurated at the Pompidou Center in Paris (summer 2019) and currently showing at the Tate Modern in London (until 15 March 2020) before moving to the Getty Center in Los Angeles. This prestigious retrospective has considerably accelerated transactions on her work – the volume sold at auction quadrupled in 2019 – although no significant impact has yet been seen on her prices. In recent months, several drawings – mainly still lifes – were still the subject of timid bidding in Parisian auction rooms, starting between $200 and $500…
What impact will the exhibitions in London and Los Angeles have on her prices? In any case, the show reveals all the facets of Dora Maar's talent through more than 500 works and documents, including some pictures and paintings that are making their first ever public appearance. The aim of the retrospective is to focus on the complexity of her work and not her amorous relationships or her role as a muse. In so doing, the exhibition also celebrates the emancipatory strength of women at a time when the first thing an artist needed to achieve recognition and fame was quite simply to be male.