Excellent results on French art market
[2022年06月28日]

In mid-June Christie's sale of the Hubert de Givenchy Collection in Paris took 114 million euros ($120 million), an excellent result that doubled its pre-sale forecast and included a rare Surrealist sculpture by Alberto Giacometti.

The slender silhouette of a Femme qui marche (Walking Woman), created in the 1930s and cast in 1955 by Fiorini and Carney, fetched 27 million euros ($28 million), the best art auction result in France since the beginning of the year, but also the sixth best result ever hammered for an artwork on the French art market. According to Christie's, the sale attracted interest from major international collectors: 57% of the registered bidders were from Europe and/or the Middle East, 30% from the Americas and 12% from Asia.

Moreover… three of the ten best results in the history of the French art market have been hammered this year!

First there was $26.8 million in March for Jean-Baptiste Siméon Chardin's Le panier de fraises des bois (basket of wild strawberries), then $24.3 million in May for a rare and historic nude study by Michelangelo, and then $28.3 million in June for Giacometti's Femme qui marche.

.
TOP 10 bids for works of art in France:
$52.3 million – Amedeo MODIGLIANI, Tête – c.1910-1912
Christie's, 14/06/2010
$46 million – Henri MATISSE, Les coucous, tapis bleu et rose – 1911
Christie's Paris & Pierre Bergé, 23/02/2009
$37.4 million – Constantin BRANCUSI, Madame LR – c.1914/17
Christie's Paris & Pierre Bergé, 23/02/2009
$29.5m – Alberto GIACOMETTI, Grande femme II – 1960
Christie's, 19/10/2017
$27.6 million – Piet MONDRIAN, Composition with blue, red, yellow and black – 1922
Christie's Paris & Pierre Bergé, 23/02/2009
$28.3 million – Alberto GIACOMETTI, Femme qui marche [I] (1932/36)
Christie's, 14/06/2022
$26.8 million – Jean-Baptiste Siméon CHARDIN, Le panier de fraises des bois
Artcurial, 23/03/2022
$26.7 million – CIMABUE, Le Christ moqué
Hotel des Ventes de Senlis, 27/10/2019
$24.3 million – MICHELANGELO, A nude man (after Masaccio) and two figures behind
Christie's, 18/05/2022
$22.2 million – Nicolas DE STAËL, Parc des Princes (Les grands footballeurs) – 1952
Christie's, 17/10/2019
.
The French art market has therefore been revitalized by the sale of a few exceptional masterpieces at very good price levels. Already, before the sale of the Hubert de Givenchy Collection, the French art market had shown a marked uptick, posting an exceptional 25% increase in its fine art auction turnover, despite a contraction in transactions (-8%).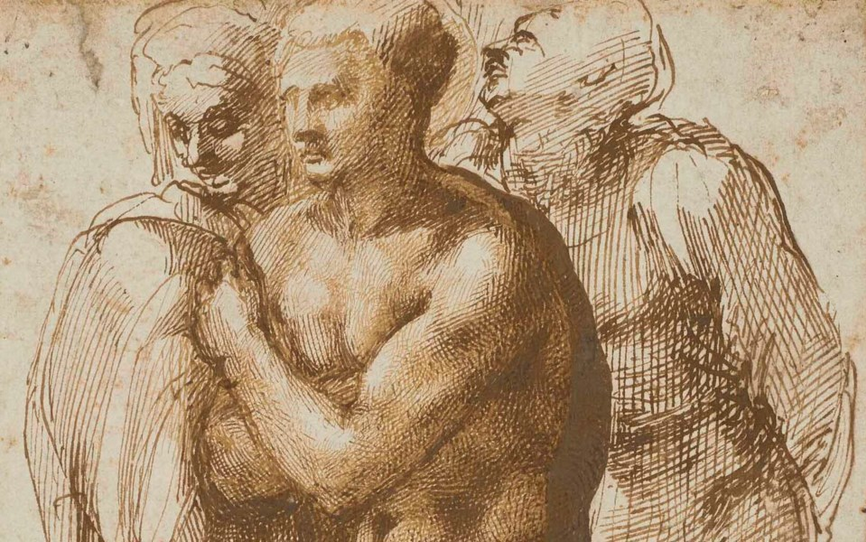 MICHELANGELO, A nude man (after Masaccio) and two figures behind (detail)
Stronger performances at Sotheby's and Christie's France
These results confirm an upward trend already observed last year. The French art market is at a turning point and is consolidating its fourth place position in an extremely prosperous global market.
Between January and May 2022, the global art auction market generated a billion more (in USD) than during the same period in 2021. This additional billion came from the United States, where art auction turnover jumped by a massive 54% from $2.2 billion to $3.4 billion.
In France, over the same period, art auction turnover rose from $271 million to $339 million, driven by the intense activity of French auction operators, but above all by the exceptional performances of Christie's and Sotheby's, hammering record results in Paris since last year. Since January, Christie's France has already generated $197 million and looks set to hit a new annual record by the end of the year.
Fine art auction turnover at Sotheby's France
Copyright Artprice.com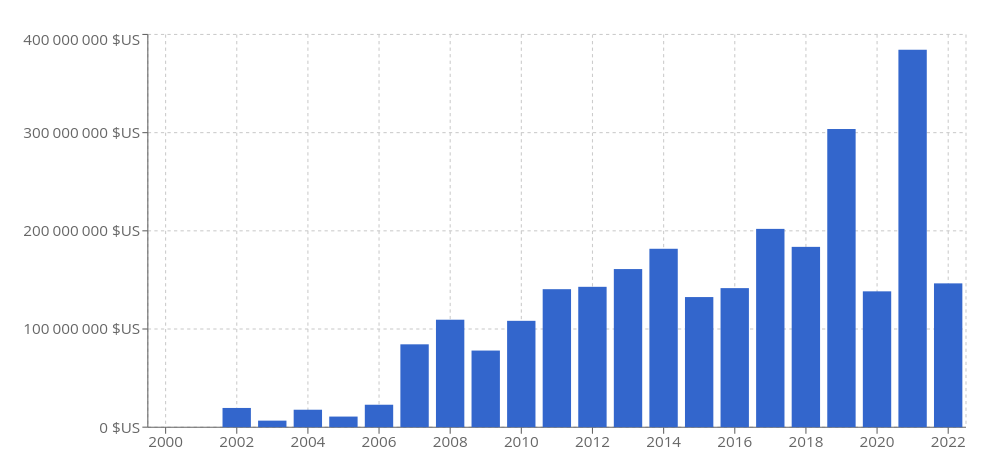 Fine art auction turnover at Christie's France
Copyright Artprice.com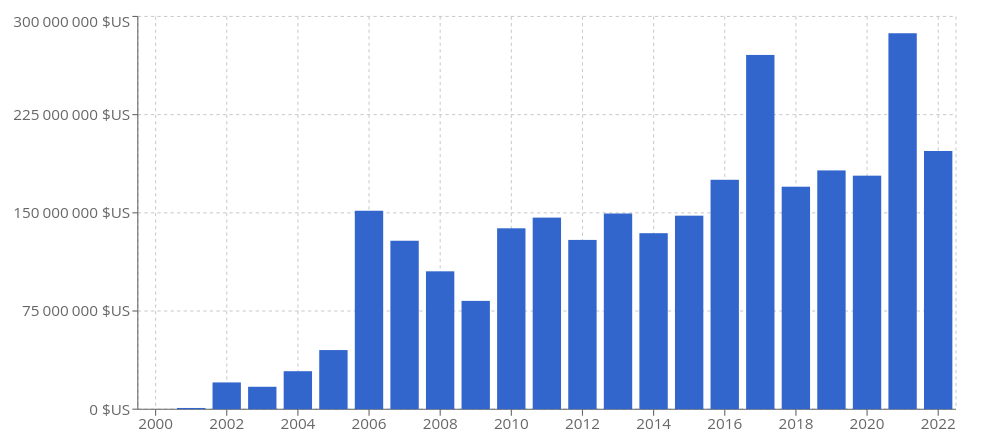 In an ultra-competitive and constantly changing global context, the French art market has never been quite so dynamic. Slowed by the pandemic in 2020, its growth resumed with renewed vigor last year setting a historic annual record above the billion dollars threshold for the first time. Judging by the results so far, 2022 promises to reach new heights…