Flash News: Georges de la Tour, Georges Mathieu and Kudzanai-Violet Hwami
[2020年12月18日]

A good result for a rare painting by Georges de la Tour suggesting renewed interest in Old Masters is continuing; Georges Mathieu (1921 – 2012) attracts a record bid in Hong Kong; and one of Victoria Miro's latest recruits, Kudzanai-Violet Hwami, stirs the market…  Just some of the art market news in mid-December…

Georges de la Tour, a historic result for Germany

A girl blowing on a brazier (La Fillette au brasier) by the extremely rare Georges DE LA TOUR (1593-1652) was the jewel of the December 8 sale organized at Lempertz in Cologne. The canvas came from the vast collection of the Bremen-based entrepreneur Hinrich Bischoff who died in 2005. A girl blowing on a brazier is one of the last paintings still in private hands by this Baroque master to whom only 48 works have been officially attributed, of which only seven have been auctioned in the past 30 years.
Measuring 76 x 55 cm, this masterpiece, seen at the Grand Palais in Paris in the late 90s and at the Prado in Madrid in 2012, slightly exceeded its estimate, fetching $5.2 million (incl. fees). A new record for De La Tour, the work also generated the second-best result in German auction history behind a painting by Max BECKMANN which sold for $6.4 million in 2018 (Villa Grisebach, Berlin).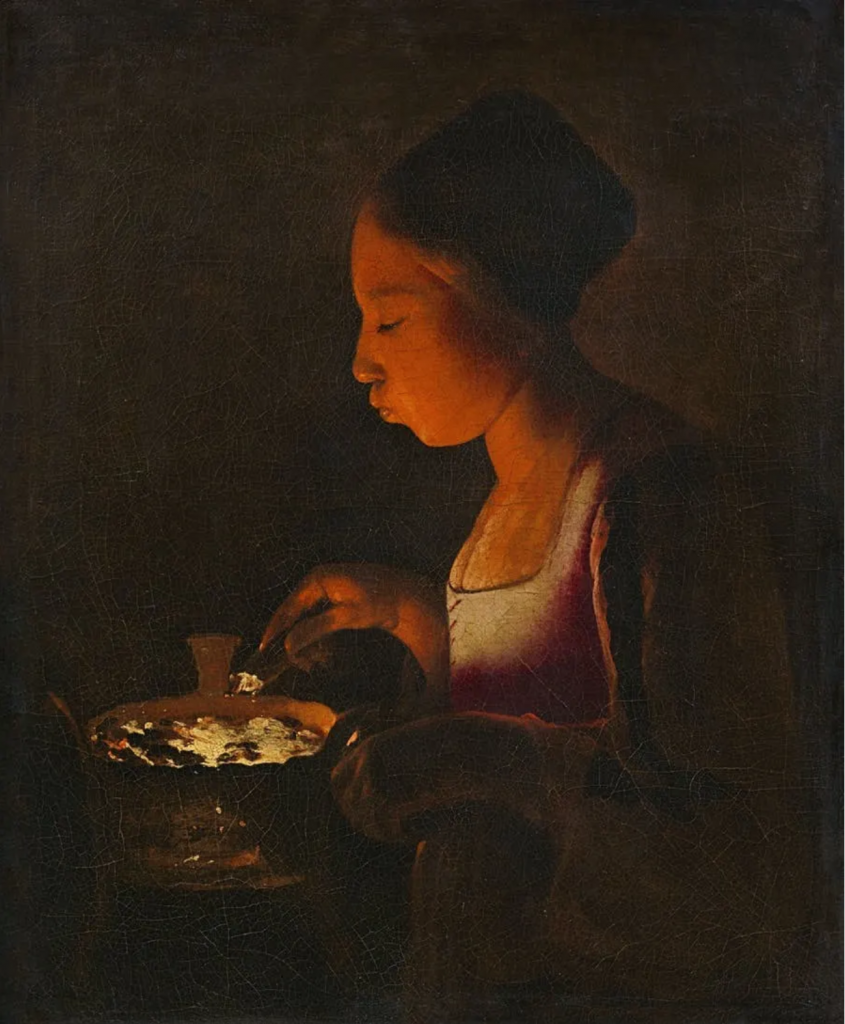 Georges de La Tour, A girl blowing on a brazier (La Fillette au brasier)
Hong Kong record for Georges Mathieu (and Chu Teh Chun)
Georges MATHIEU was a flamboyant personality, a Dalinian character who received numerous honours (distinguished during his lifetime as Knight of the Legion of Honour and Commander in the Order of Arts and Letters). He is above all considered one of the fathers of Lyrical Abstraction, and is even said to be at the origin of the first dripping paintings, a technique developed by Jackson Pollock in the mid-1940s. However, his market prices have never been as buoyant as those of Pierre Soulages, Zao Wou-Ki, Chu Teh-Chun and Nicolas De Staël, other French abstract painters from the same generation.
The new record for Georges Mathieu hammered on 2 December at Sotheby's Hong Kong therefore has a pleasantly refreshing feel about it: no less than $2.2 million was paid for a gigantic oil-on-canvas (250 x 600 cm) titled Souvenir de la maison d'Autriche (Remembering the House of Austria), adding $400,000 to the artist's previous peak. This wasn't Mathieu first appearance in a Hong Kong auction; his paintings have been presented to bidders on the peninsula since 2014 by both Sotheby's and Christie's and have always been well received. But it was the French painter's first HK result above the million-dollar line. Mathieu has been back in fashion since the Perrotin and Nahmad galleries joined forces to represent the painter's estate.
This same sale also raised the auction record of the Sino-French artist CHU Teh-Chun after a majestic work, Les éléments confédérés, with similar dimensions to those of the Georges Mathieu work, fetched $14.7 million. Between Mathieu and Chu, the price gap remains immense: no less than $12.5 million separates the two artist's new records. Once again, the market clearly shows its preferences…
Kudzanai-Violet Hwami joins Victoria Miro Gallery
Four years after graduating from Wimbledon College of Arts and at just 27 years old, Kudzanai-Violet HWAMI has a very promising future. This young artist from Zimbabwe grew up in South Africa, but lives in the UK where she creates works imbued with her own brand of multiculturalism, including details of South African life. Hwami is not unknown on the ultra-contemporary scene; in 2019 she was noticed at the Zimbabwe pavilion of the 58th Venice Biennale and her work has been shown in London (Tyburn Gallery) and several times in France (Ateliers de Rennes and Le Triangle, among other venues).
There can be no doubt that her recent signing with the powerful Victoria Miro gallery is bound to excite the market and a result at Phillips (on 8 December) has already demonstrated the incredible enthusiasm her paintings generate. Eve on Psilocybin (2018), her auction debut, fetched $252,000, multiplying the mid-range estimate by seven.
Given the health restrictions still in place, Hwami's works are currently being presented in a collective show at the Victoria Miro gallery which can be viewed online via the application Vortic Collect, the world's first augmented reality art application (Reprieve x Vortic, until 31 January 2021 ). A solo show of Hwami's work is planned for next summer at Victoria Miro.