Hong Kong: Top 3 art auction results in 2022
[2022年12月20日]

In 2021, Hong Kong's art auctions generated a record total turnover of $1.7 billion from over 6,900 artworks sold. This year, the provisional total is over $1.2 billion from approximately 6,200 lots sold up to mid-December. Although lower, this is still an impressive performance. Artprice by Artmarket looks at the three most remarkable HK results in 2022, which illustrate the opening of the Hong Kong market – and more broadly, the Chinese market – to artists from various backgrounds and origins. The top result was hammered for a landscape by Zhang Daqian which set a new auction record for China's favorite classical artist at close to $47 million.

 
1. ZHANG Daqian (1899-1983)
Landscape after Wang Ximeng. Ink drawing, 133.6 x 72.8 cm
$47.2 million, Sotheby's HK, 04/30/2022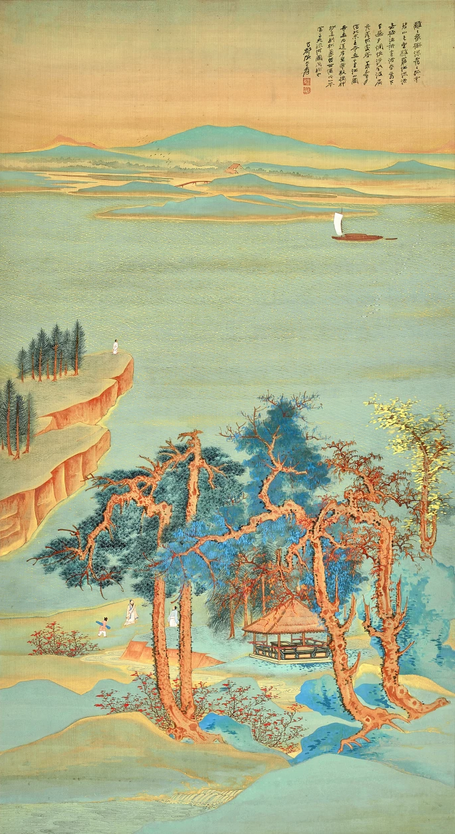 ZHANG Daqian (1899-1983) is the most popular and beloved classical Chinese artist among major Chinese collectors and demand for his works is continuing to grow, often triggering memorable moments in auction rooms: on April 30 last, after an 18-minute bidding battle with more than 50 bids, his landscape After Wang Ximeng" – a blue-green landscape in golden light – joined an Asian private collection for $47.2 million (USD). This exceptional result set a new auction record for Zhang Daqian and a new record for Sotheby's for a work of Chinese art. It was also the second highest price ever paid for an artwork sold through Sotheby's Asia.
The blue and green landscape, After Wang Ximeng, was painted in 1948 at the height of Zhang Daqian's career and the same year as his landmark exhibition of landscape paintings in Shanghai. It was later added to the Shanghai Sun Zhifei collection and remained in the family collection until its recent sale. After being exhibited at the Shanghai Museum and the National Art Museum of China in 1983, the masterpiece was not publicly exhibited for almost forty years. Carmen Ip, Head of Fine Chinese Paintings, Sotheby's Asia, said its sale "marks another outstanding year of market leadership for Zhang Daqian. It was undoubtedly a special moment to auction the artist's Landscape after Wang Ximeng this season (…). Not only did we see seasoned collectors return to our auction room, but we also welcomed new buyers – proof of the ever-growing demand for the category (traditional Chinese art), season after season."
Most of the artist's previous auction records were also hammered at Sotheby's Hong Kong: in 2016, notably, his Peach Blossom Spring reappeared on the market after 34 years and fetched nearly $35 million, a new auction record for Zhang Daqian at the time.
2. Zao Wou Ki (1921-2013)
29/09/64 (1964). Oil on canvas. 230 x 345 cm
$35.4 million. Christie's Hong Kong, 26/05/2022
While Zao Wou Ki's market has been historically active in France, in recent years it has shifted to Hong Kong where Asian collectors snap up his most majestic paintings for millions, sometimes tens of millions of dollars. In 2018, Christie's Hong Kong sold its huge triptych Juin-Octobre 1985 for more than $65 million. This year, the best result in Hong Kong for a work by the immense Sino-French artist was $35.4 million for 29/09/64 (1964) at Christie's in May. Acquired directly from the artist by a private French collector in 1969, then transmitted by descent to the last owner, this painting had already been auctioned at a sale in May 2017 hosted by Christie's Hong Kong (Contemporaries: Voices from East and West / Asian 20th Century & Contemporary Art) where it fetched $19.6 million. Its value has thus increased by nearly 15,6 million dollars since its last auction five years ago.
Christie's described 29.09.64 as "the largest and most important canvas from the artist's 'hurricane period' still in private hands", noting that "29.09.64 is a seminal work that marries his profound knowledge of classical Chinese painting represented by intricate networks of truncated black and white brushstrokes at the center of the composition, with abstract explorations through predominantly blue coloring that resemble a tumultuous seascape where water and sky intertwine." The painting was created after Zao moved to a spacious studio in the Montparnasse district of Paris, allowing him to experiment with large-format canvases, like this one, measuring almost three and a half meters."
So far this year, works by ZAO Wou-Ki have generated nearly $66 million in Hong Kong, an impressive performance that puts the artist in the provisional Top 25 of our global ranking of artists by auction turnover during the year 2022.
Zao Wou Ki: turnover at auction by country since 2000 (copyright Artprice.com)

3. Gerhard RICHTER (1932)
Abstraktes Bild (抽象畫) (1990)
Oil/canvas. 225 x 200 cm
$25.5 million. Sotheby's HK, 07/10/2022
The bidding was not particularly enthusiastic for Richter's impressive abstract work on 7 October last. Sotheby's nevertheless sold the work within its estimated range at $25.5 million recording its best result of the day and the artist's second best-ever result in Hong Kong. In 2022, Gerhard Richter's works have generated more than $190 million at auction, including $44 million in Hong Kong, nearly $49 million in London and more than $90 million in New York, which remains the primary market for his most important paintings.
Gerhard RICHTER, who turned 90 this year, is celebrated around the world as one of the most important artists of his generation, with a career spanning from the 1960s to the present day. He became one of the most popular and highly-valued Contemporary artists in the early 2000s, and his prices have been steadily rising ever since.
Richter : price index at auction (copyright Artprice.com)

A few days ago – on December 8 – the David Zwirner gallery officially announced its representation of the German artist, as well as a first solo exhibition of his works at Zwirner's New York gallery in March 2023. In its press release, David Zwirner said "To be able to work with Gerhard Richter is an immense honor and a great privilege. Richter has, without a doubt, created one of the most conceptually complex and aesthetically heterogeneous works in the history of art. By avoiding adherence to any single ideology or dogma, Richter has been able to both celebrate and subvert the very act of painting. In the process, he has single-handedly opened up the medium to entirely new possibilities and investigations. Now I'm looking forward to our first exhibition together in the spring of 2023 in New York. I want to acknowledge the important work Marian Goodman and everyone at the Marian Goodman Gallery has done for and with Gerhard Richter over the past thirty-seven years, and I'm humbled to be given this opportunity." For his part, Gerhard Richter said "I'm happy to be represented by David Zwirner. I have known David since his childhood as I had already in the 1960s worked closely with his father, Rudolf Zwirner." As the Zwirner gallery is present in New York, London, Paris and Hong Kong, the Asian market could account for a greater share of the artist's market in the future.