Ismail Isshaq… and new faces from Ghana
[2022年11月29日]

The Ghanaian art scene is attracting ever-stronger and ever-more pressing interest. The recent successes of Ghanaian artists like El Anatsui, Ibrahim Mahama and Amoako Boafo have prompted an acute international focus on the country's art scene. Indeed, the work of those three artists would appear to have contributed to a significant erosion of the barriers between Western Contemporary art and African art, and the prices negotiated for their works have ultimately led to a contraction of the value differential between Western and African artists.

Today, Ghanaian artists are seeing their works exhibited alongside well-established artists with global markets. Their works are present at exhibitions and major art fairs in Europe and North America, and their auction prices are constantly exceeding estimates. This phenomenon appears to have started two years ago, shortly after the opening of the first-ever Ghana pavilion at the 58th Venice Biennale (2019).

Although absent from that Venice Biennale, the works of Ismail Isshaq were simultaneously promoted by the Efie gallery and by Christie's, the world's leading auction company, which greatly contributed to Isshaq's acceptance among international collectors. Today, demand is pressing for Isshaq's exuberant paintings which propose a form of "infantile semi-abstraction".
Unorthodox
Ismail ISSHAQ was born in 1989 in Ghana's capital, Accra, where he still lives today. After graduating from Ghanatta College of Arts and Design in 2012, he understood he had to unlearn in order to relearn and that he wanted his work to reflect the social culture and political realities of the 21st century. This ultimately led him to focus on the human face – a natural vector of empathy – and particularly on childlike simplifications thereof, whose quasi-grotesque features fascinated him. The results, created with plenty of paint and sprinkled with collage and discarded objects, are highly stylized and could almost be interpreted as 'naive'. But while he describes his painting style as "infantile semi-abstraction" and he says his subjects explore themes of identity, resilience, "empowerment and hope", that they "represent the masses and defend the voiceless."
At a time when emerging African artists are excelling in the field of sophisticated figurative portraiture, Isshaq's canvases have stood out. Noticed for their artistic and political unorthodoxy, they were initially exhibited in Ghana and then shown abroad including in New York, Miami, London, Dubai and Cape Town. In 2015 and 2016, the artist was shortlisted for the Kuenyehia Prize for Contemporary Art and was received among the 100 finalists of the L'Artelier art competition sponsored by Barclays in Johannesburg. In 2019, he was shortlisted for the GUBA Award (USA) aimed at highlighting influential artists of the moment. Above all, his work has been exhibited in Christie's London premises alongside El Anatsui as part of the Material Earth exhibition co-organized by Christie's and the Efie gallery. Two years later, his works began eliciting a number of spirited bidding battles in auction rooms.
Ismail Isshaq'turnover at auction: geographic distribution (copyright Artprice.com)

Just two years to establish himself on the global market
After the Material Earth exhibition, Christie's stoked collector enthusiasm with an article on its website devoted to Ghana ('The eyes of the art world are on Ghana right now, and they like what they see') in which they asked Kwame Mintah, co-founder of the Efie gallery, about the growing interest in Ghanaian artists around the world. Mintah cited the extraordinary gain in visibility resulting from Ghana's participation in the 2019 Venice Biennale, but also the strong development of the artistic and commercial networks in Accra where the majority of the country's galleries are located, and in particular, the activity of the 1957 Gallery which "has been a game-changer for art in Ghana". With three spaces in the city, including the main one, strategically located within a five-star hotel "where government officials, businessmen and other important individuals stay" the powerful 1957 Gallery has given "a massive boost" to the West African art scene.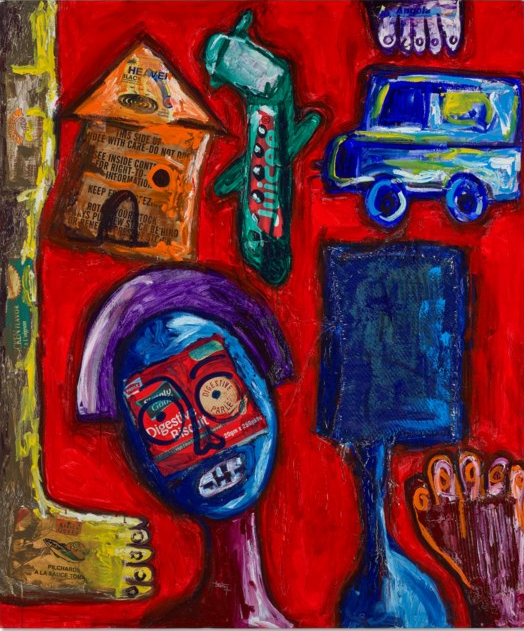 In addition to being supported by the Dubai-based Gallery Efie, Ismail Isshaq is also championed by the 1957 Gallery, which also opened a space in London in 2020. The young artist has therefore proved that success is possible without the support of a major London or New York gallery. Of course, Christie's played a vital role in promoting Ismail Isshaq's work via the Material Earth exhibition. In 2021, the first Isshaq painting sold by Christie's, Epoch I (see image), demolished its estimate of around $13,000 to reach $131,000 (164 000$ included fees, Christie's online sale, London, October 2021). This same work will reach $340,900 in July 2022, during a sale at Holly International in Canton.
By the end of the year, the seven Isshaq works presented at auction had generated a million dollars. In 2022 (to end-October), 40 of his works have already sold through auctions, generating $3.7 million, almost four times the previous year's total! This extraordinary success was recently confirmed at the last 1-54 art fair where the 1957 gallery reported having very quickly sold the ten works of a solo show of Ismail Isshaq's work…