La Transavanguardia: Italian figurists no longer set the market on fire
[2002年12月08日]

 

The 1980s saw a resurgence of figurative painting in Europe with the German New Fauves, the French Figuration Libre movement and the Italian Transavanguardia that was quickly taken up by the art market at the time. But with Christie's Rome holding its "Arte Moderna e Contemporanea" auction on 18 December 2002, how do collectors rate these recent Italian figurists today?

The value of Transavanguardia works shot up in the late eighties, and then stalled. Collectors have had little hope of making a profit on them since the early nineties. The only signs of life came in 1999 and 2002. On 18 November 1999, Sotheby's New York held a major auction of contemporary art from a private European collection. Alongside Jean-Michel BASQUIAT and Mimmo PALADINO, 17 lots by Francesco CLEMENTE, Sandro CHIA and Enzo CUCCHI were sold. The total for all their pieces fetched more than a million Euro and Francesco CLEMENTE beat his record with an oil on canvas that went for EUR269,087. Prices dipped again in 2001. But now the segment looks to be perking up again. Prices are higher than at any time in the last ten years. That said, investing in Transavanguardia work between 1999-2002 would have brought a gain of just 15%. Artists such as Nicola DE MARIA and Enzo CUCCHI actually lost value over the last decade.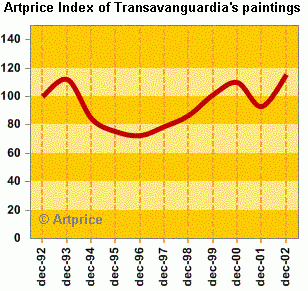 While the artists of the Transavanguardia followed a similar artistic line, each has their own theme and style. These differences are clearly reflected in their price levels. Sandro CHIA's price level traces a less volatile version of prices for the movement as a whole. We see a big rise in 1999 followed by a fall in 2000 continuing into 2001. Marta PALAU peaked in the late eighties and his record price dates from 1990 when hisPozzo di Eroi canvas sold for USD225,000. He missed out on the 1999 rally. But then his price level gained 70% between 1999 and 2001 only to fall back again in 2002. Paladino paintings are now fetching an average EUR20,000 compared to less than EUR10,000 in 1997. An oil on canvas,Tristi (103x116cm), bought for EUR10,092 in 1996 sold for EUR22,045 in 2000, a 118% yield in four years..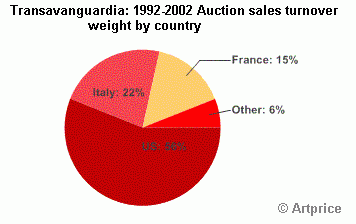 Like its member artists, sales of Transavanguardia works have spread abroad. Around half their turnover has been made in US auction houses. But France has hosted 7% of their sales compared to 4% for the contemporary art market as a whole. That said, the movement retains a markedly Italian character, making 17% of its turnover in Italy which handles just 2% of the global contemporary art market. The US bias in sales probably owes much to the emigration of the movement's artists across the Atlantic. Sandro CHIA left for the US in 1981 and now splits his time between New York and the Italian town of Ronciglione. Marta PALAU set off to explore New York in the late seventies. Francesco CLEMENTE has lived in New York since 1982. Now, Rome is about to host a major auction, held by Christie's on 18 December. Six Transavanguardia works will be on offer at a range of prices. Buyers can expect to pay EUR30,000-40,000 for Prime Luci Dell'alba by Mimmo Paladino and EUR1,000-1,500 for Scopritore del fuoco a 27 anni, an Enzo Cucchi ink drawing.