Mondrian: D-3
[2022年11月11日]

In a few days, on November 14, Sotheby's will be offering an important painting by the Dutch painter Piet Mondrian, a pioneer of European abstraction. Titled Composition n°II, it dates from 1930 when the artist was living in Paris to 'refine his style'.

Considered pivotal canvases in the canons of Modern art, each appearance of one of Piet MONDRIAAN's abstract compositions is always a major event on the art market. But this painting is particularly anticipated for two reasons. Firstly, because if the bidding crosses the $50 million threshold it could potentially set a new auction record for the artist (Mondrian's current record stands at $50.5 million, hammered by Christie's in 2015 for his Composition No. III, with Red, Blue, Yellow, and Black, 1929). And secondly, because Mondrian was recently in the news with a story about one of his most important works having spent 77 years hanging upside down!
The advantages of Composition n°II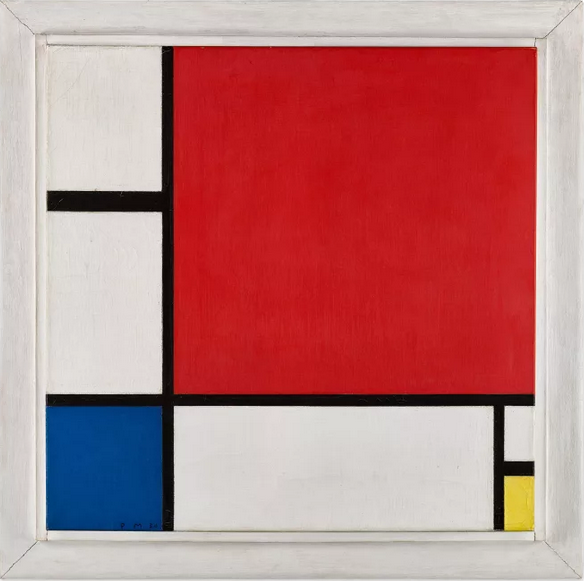 Composition n°II (see image) is emblematic of a pivotal period in Modern art and, according to Oliver Barker, President of Sotheby's Europe, "is an undeniable masterpiece by the artist, bearing the hallmarks of Mondrian's revolutionary and elemental approach to composition – with black lines, primary colors and geometric precision".
Works from this period and of this quality are extremely rare on the market. Mondrian produced around 120 oils in this period, seventeen of which are dominated by an intense red, as in Composition n°II. Only three works of this quality are held in private collections.
Moreover, this canvas carries superb provenance: presented for the first time in 1930 in the inaugural exhibition Cercle et Carré in Paris, the work was lent by Mondrian to the Swedish artist Otto Carlsund in the 1930s and subsequently stayed in the collection of the Dutch artist César Domela for a brief period in the late 1940s. Later, Composition n°II was kept in the Bartos collection until 1983 when it was sold at auction by Christie's, alongside important works by Joan Miró, Alexander Calder, Fernand Léger and Mark Rothko. At the time of its last sale almost 40 years ago, it fetched $2.2 million, making it the most expensive Mondrian on the market and indeed one of the dearest abstract works in the world.
The resale of Composition n°II in New York is a wise commercial choice as Mondrian effectively marked the history of American art and his best results have always been hammered in the United States. After 1937 when his work was exhibited as "Degenerate Art" in Nazi Germany, Piet Mondrian decided to leave France finding refuge first in England and then in New York where his abstract paintings inspired a number of American artists in currents as diverse as Color Field, Minimalism, and Pop Art. American collectors know his work well and know his importance in their art history.
Mondrian: number of lots sold at auction (copyright Artprice.com)

77 years upside down
Composition n°II arrives at auction 150 years after Mondrian's birth and two weeks after Mondrian's name hit headline news following a revelation by Susanne Meyer-Büser, curator of the Mondrian: Evolution exhibition at the Kunstsammlung in Düsseldorf. According to Ms Meyer-Buser, Mondrian's painting New York City I (1941) has been interpreted and exhibited upside down for 77 years. New York City I is a 'adhesive tape' version of New York that is exhibited the right way up at the Center Pompidou in Paris. New York City 1 was first unveiled at the Museum of Modern Art in New York in 1945, a year after the painter's death. When it was sent to the Dusseldorf museum in 1980, the painting was exhibited the same way: upside down!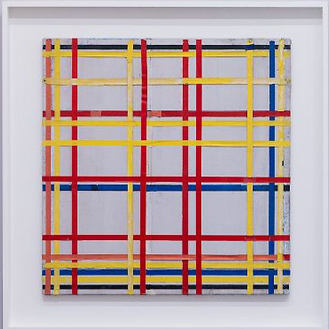 Among the clues Ms Meyer-Büser has relied on is a photo of the artist's studio published in Town & Country in 1944 showing the painting on its easel… the other way up. Considering the work incomplete, Mondrian did not sign it, so the curators in New York in 1945 were unable to orient the painting by its signature.
Ms Meyer-Büser said she thought New York City I would probably never be reverted because "the adhesive tapes are already extremely loose and hanging by a thread", "If we were to flip it now, gravity would pull them in another direction." And she concludes that the error is now part of the painting's history and that it certainly only makes it more interesting…