More than a billion US dollars hammered in New York
More than a billion US dollars hammered in New York
[2023年11月14日]

Christie's and Sotheby's generated almost $1.2 billion from their New York sales of Modern and Contemporary art last week. A reassuring result for the end of a year in which some exceptional works attracted strong attention, while others disappointed expectations.
Christie's generates $759.35 million
Christie's took a total $759.35 million from its two sessions ($107.45 million at the 21st Century Art sale on November 7 and $651.9 million at the 20th Century Art sale on November 9). The Auction House said it was very pleased with the sales' audiences having apparently attracted more than 2.5 million spectators on the various platforms, including a strong international participation, in addition to bidders in the crowded sales room.
Christie's opened New York's Fall season of prestige sales on November 7 with mixed results at its 21st Century Art sale: the 41 lots generated $107.45 million, a somewhat disappointing total considering the estimated range of $99 million to $143 million. The sale's weak points included two paintings withdrawn just before the sale, one by John Currin and another by Mark Bradford (and which remained unsold), and lukewarm bidding for works by blue-chip artists including Andy Warhol, Keith Haring, Cy Twombly and above all Jeff Koons. Nevertheless, new artists – especially women and non-white artists – attracted a number of excellent results.
Strong demand and soaring prices for new female artists:
Another powerful result was hammered for JIA Aili (1979), with a new record for his work Combustion (2016) at more than $4.7 million. Jia Aili's previous record was recorded in 2020 at $3 million, so the Gagosian-supported Chinese artist has made substantial price progress.
Big results for Monet and Bacon
Christie's 20th Century Art sale on Thursday night was a more spirited event, generating a total (including fees) of $651.9 million. That total included nine works sold at prices above $25 million, including major paintings by Diebenkorn, Rothko, Picasso, Cézanne, Magritte, Mitchell and Warhol, in addition to Monet and Bacon who obtained the best results of the sale.
The sale's best result rose to $74 million for Claude MONET's Le bassin aux nymphéas (1917-1919), a vast canvas measuring 1 x 2 meters that has been kept in the same family collection for fifty years. The work entered the Impressionist artist's Top 10 auction results and was the third best result of the year so far.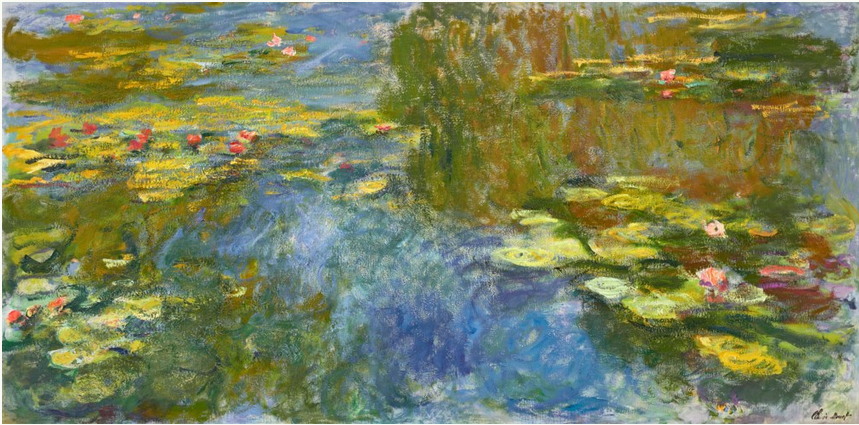 Claude Monet, Le Bassin aux nymphéas, sold for $74 million on November 9 at Christie's New York
Francis BACON's Figure in Movement sold for $52.1 million, generating the sale's second best result. Bacon created this painting in 1976, five years after the tragic death of his friend George Dyer, which occurred just a few days before the opening of his retrospective at the Grand Palais in Paris. Here he expresses despair, suffering, passion and sensuality in all their brutality. The painting, often exhibited but never before submitted to the market, had remained in the same family since its acquisition.
Diebenkorn sold at the price of Rothko
Through his painting Memories of a Visit to Leningrad, Richard Diebenkorn pays homage to Henri Matisse. The audacity of the composition and the choice of colors together with its large size guaranteed Richard DIEBENKORN a new record of $46.4 million, i.e. $20 million above his previous record obtained in 2021 for a painting from the Ocean Park series. Note also that Diebenkorn's work sold for the same price as Mark ROTHKO's superb monumental painting Untitled (Yellow, Orange, Yellow, Light Orange), 1955, (207 x 152 cm).
And then there was Pablo Picasso's superb Femme endormie which passed its high estimate by several million, going for nearly $43 million, and an exceptional still life by Paul Cézanne – Fruits et pot de gingembre – which changed hands for $38.9 million, joining Cézanne's top ten auction results.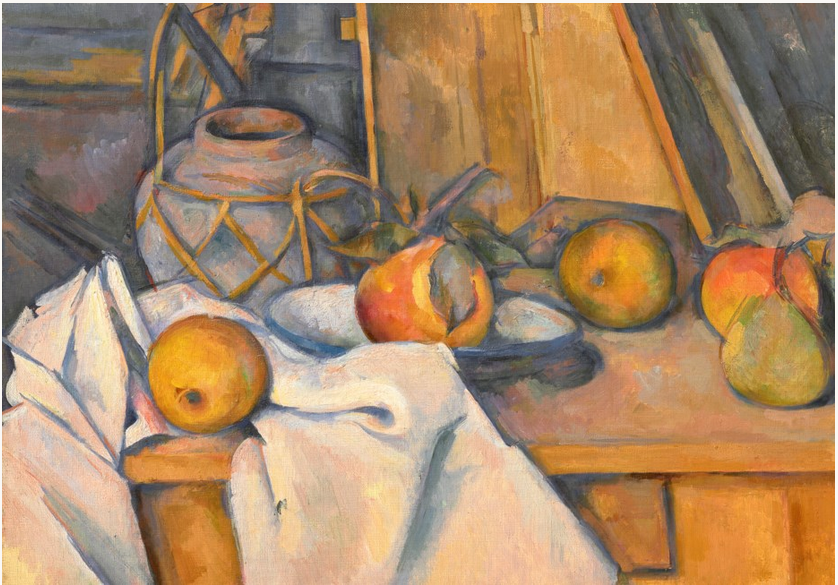 Paul Cézanne, Fruits et pot de gingembre (1890/93) sold for $38.9 million on November 9 at Christie's
Sotheby's takes $424.55 million from the Emily Fisher Landau Collection alone
On November 8 and 9, Sotheby's sold part of the Emily Fisher Landau collection, bristling with masterpieces. All the lots offered on November 8 (the most prestigious session) found buyers without exception, generating a total of $406.4 million. About a third of that total came from Pablo Picasso's 1932 portrait of Marie-Thérèse Walter, Femme à la montre which fetched $139.4 million. Nine lots exceeded $10 million: see the five best results from the Landau sale in our November 9 article "The most important works in the Landau collection at Sotheby's".
There were also new auction records for two first-rate artists: $11.8 million for Mark Tansey's Triumph Over Mastery II (1987) and a whacking $18.7 million for Agnes Martin's first grid painting Grey Stone II (1961), versus an estimate of between 6 to 8 million dollars.
$424.55 million for the Landau collection at Sotheby's:
$406.4 million for the November 8 prestige sale
$18.15 million for the November 9 day sale