New York's Impressionist & Modern sales post turnover down 32% on 2018
[2019年11月15日]

Impressionist & Modern masterpieces are still fetching high prices with a new record for Umberto Boccioni and a strong result at nearly $20 million for a work by Gustave Caillebotte… but there weren't any really big-ticket trophies.

Christie's and Sotheby's prestige sales kicked off on 11 November with, as usual, two Imp/Mod catalogues containing roughly fifty lots each. But the sales were substantially less fruitful than the equivalent sales a year earlier due to a lack of 'major attractions'. The combined total generated by these two prestige sales was down a third on last year's combined total: from $594.6 million to $400.8 million.
Christie's figures…
Christie's Imp/Mod sale on 11 November posted a total of $191.9 million compared with an overall estimated range of $148 to $219 million. The total is significantly lower than last season's, suggesting a less dynamic market this autumn. In the absence of truly exceptional work (i.e. those capable of fetching over $30 million), Christie's performance was down 31% versus its November 2018 Imp/Mod sale, which raised $279.2 million. Nevertheless, judging by the company's expectations, the sale was generally successful with a sold rate of 90% (6 unsold out of 58 works offered). Among the unsolds, a solid Fernand LÉGER canvas (La femme et l'enfant) failed to convince collectors against a low estimate of $8 million.
René Magritte – Best turnover in 2019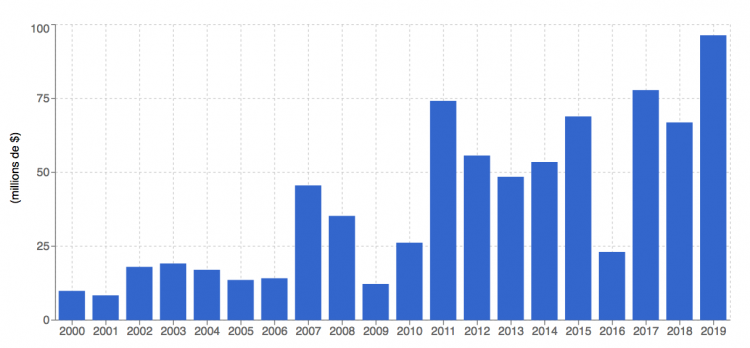 Copyright Artprice.com
Futurist and Surrealist domination
Only five works at Christie's sale were estimated above the $10 million threshold, of which, four reached 8-digit results. These included an emblematic Futurist sculpture by Umberto BOCCIONI and an excellent MAGRITTE painting. Boccioni's iconic 1913 sculpture, Man in Movement (Unique Forms of Continuity in Space), glorifying the dynamism of modern life, fetched a new auction record for the Italian Futurist. A powerful bronze statue, standing over a meter high, the work was certain to fetch beyond its low estimate of $ 3.8 million. Ardently contested, the work reached $16.2 million, an exceptional price for a posthumous cast (1972), but nevertheless reflecting the work's importance in art history and its rarity (since six of the ten existing bronzes belong to public collections like the Metropolitan Museum of Art, the MoMA and the Tate. Four are still in private hands.
Only one piece at the Christie's sale reached beyond the Boccioni result: an important René MAGRITTE painting – one of the largest known by the artist (at 162 x 130 cm) – entitled Le seize septembre (1957). The subject, a thin crescent moon hanging in front of a tree in the night, is one of the artist's most emblematic, and, by extension, one of Surrealism's most emblematic subjects. Estimated between $7 and 10 million, the work almost doubled its high estimate reaching $19.6 million, his 4th best-ever auction result after two results above $20 million in the last 12 months. With the Belgian artist's prices at their best-ever level (price index up +292% since 2000), Sotheby's managed to get five Magritte canvases into its sale on 12 November. Only three sold… but the most interesting, La légende des siècles, far exceeded its high estimate, fetching $8.6 million.
Pablo PICASSO and Camille PISSARRO also crossed the $10 million mark with bidders pushing Pissarro's Jardin et poulailler chez Octave Mirbeau, Les Damps up to $10.3 million, ($4 million above its high estimate), the French artist's fourth best-ever auction result. Picasso's Femme dans un fauteuil (Françoise) changed hands within its estimated range at $13.3 million, adding no less than $10 million to its auction value 19 years ago (2000) when it was acquired for $3.3 million at Sotheby's in New York (Femme dans un fauteuil).
Claude Monet – A very low unsold rate (-9%)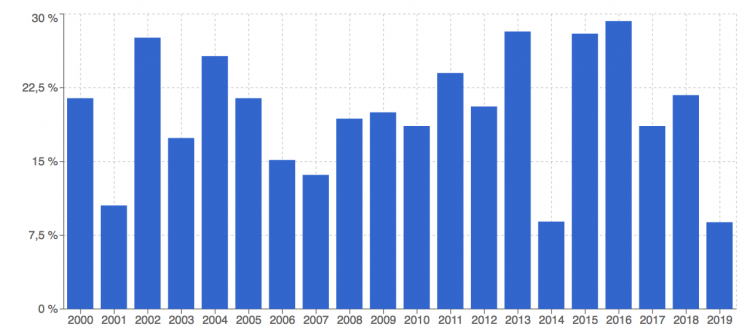 Copyright Artprice.com
Sotheby's best results…
Sotheby's Imp/Mod sale on 12 November generated a total of $208.9 million compared with $315.4 million a year earlier. The total was therefore down 34% compared to last year, but the best works kept their promises. These were pieces by Caillebotte, Monet, Giacometti, Signac and Lempicka, each fetching over $10 million. For its first-ever appearance at auction, Gustave CAILLEBOTTE's masterpiece Richard Gallo et son chien Dick, went for $19.7 million just eight months after the artist's auction record of $22.1 million for his Chemin montant (sold by Christie's in London in February 2019).
The best result of the two days of intense sales was hammered for an Impressionist landscape by Claude MONET titled Charing cross bridge which sold within its estimated range at $27.8 million. Although not one of the artist's most exceptional canvases, it combines many of the typical elements found in the work of Impressionism's pioneer: the fusion of air, water and train steam in a vibrant atmosphere of tones at the threshold of abstraction. It fetched the 22nd best-ever auction result for Claude Monet, who already has more than $110 million in auction turnover to his name this year, thanks mainly to a painting from his Haystacks series sold by the same auction house in May (Meules). Artprice's provisional ranking gives Monet the world's leader according to the result of his cumulative sales since January 2019. So far, the autumn prestige sales have lacked major trophies (like the Haystacks painting…), but the overall results remain good considering the offer.