New York's recent Contemporary Art sales
[2022年11月25日]

Christie's, Sotheby's and Phillips each hosted major Contemporary Art sessions in New York last week. Artprice looks back at the highlights.
Sotheby's: an exceptional result of $856 million
The overall tally from Sotheby's New York sales between November 14 and 18 was exceptional: Patrick Drahi's company took a total $856 million from six sessions of Modern and Contemporary art sales. We note that its Contemporary Art sale on November 16 generated a slightly higher result ($269 million) than its Modern Art sale on November 14 ($253 million).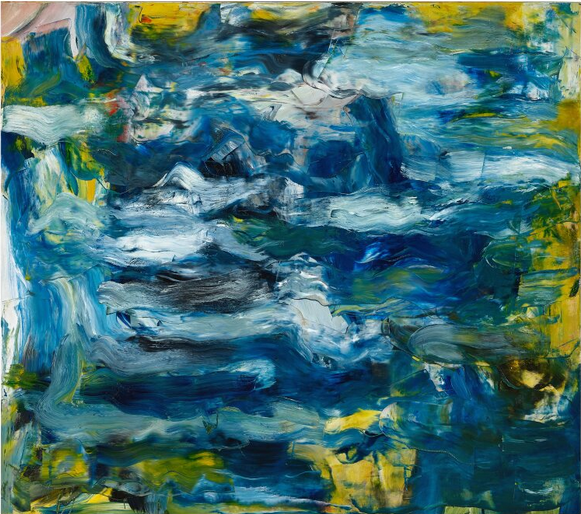 Willem de Kooning, Untitled (c. 1979): $34.8m
.
Its Contemporary Art sale was led by three works:
Andy WARHOL, White Disaster [White Car Crash 19 Times] (1963): $85.5 million
In its catalog, Sotheby's claimed "the monumental altarpiece of the modern era, White Disaster (White Car Crash 19 Times) is among the most radical and haunting artistic achievements of the 20th century". The $85.5 million result clearly illustrates the inflation of Warhol's prices since his death: on 5 May 1987 the same work fetched $660,000 at Christie's New York. Its price has thus been multiplied nearly 130 times in 35 years.
Willem DE KOONING, Untitled (c. 1979): $34.8 million
New to the market (coming directly from the De Kooning family), this superb canvas, measuring approximately two meters wide, attracted the artist's third best-ever auction result.
Francis BACON, Three Studies for Portrait of Lucian Freud (1964): $30 million
Bacon's triptych – each of the three canvases measuring 35.6 x 30.5 cm – failed to reach the $36.9 million it fetched at Sotheby's in London 11 years ago, losing nearly seven million dollars in the process. In 2011, this superb Bacon work had attracted fervent bidding and tripled its estimate.
In its Modern Art sale of November 14, Sotheby's hammered another good result when Piet MONDRIAAN's Composition No. II set a new auction record for the artist. One of Mondrian's most important works ever offered at auction, Composition No. II fetched $51 million, adding nearly half a million to his previous auction record for a similar canvas sold in 2015 at Christie's.
A historic session at Phillips
Taking a total of $138.97 million, Phillips' 20th Century & Contemporary Art Evening Sale on 15 November generated the third highest sales total in the auction house's history. Its Contemporary Art day sale on November 16 also took $26.7 million, which means Phillips achieved a remarkable total of $165.76 million from its week of Contemporary art sales. Enthralled by the results, Phillips' Global Co-director of 20th Century and Contemporary Art, Jean-Paul Engelen, said "Phillips is at the heart of a period of incomparable growth". And with 98% of the lots on offer last week attracting bids from some thirty countries, this growth is clearly being driven by strong demand from international collectors.
On November 15, Phillips' best results were hammered for an exceptional painting by Twombly that fetched $41.6 million. While the market is showing excellent solidity for important 20th Century and Contemporary artworks, it is also showing healthy demand for Ultra-Contemporary artists, whose auction debuts are often hosted by Phillips. This was the case for Danica Lundy (31) and Ilana Savdie (33) who each made solid debuts at the start of the November 15 Contemporary Art sale. The two artists, who both joined White Cube this year, fetched $189,000 and $176,400 respectively with their first canvases sold at auction. The two female artists have therefore now joined the list of young artists collectors are rushing to acquire.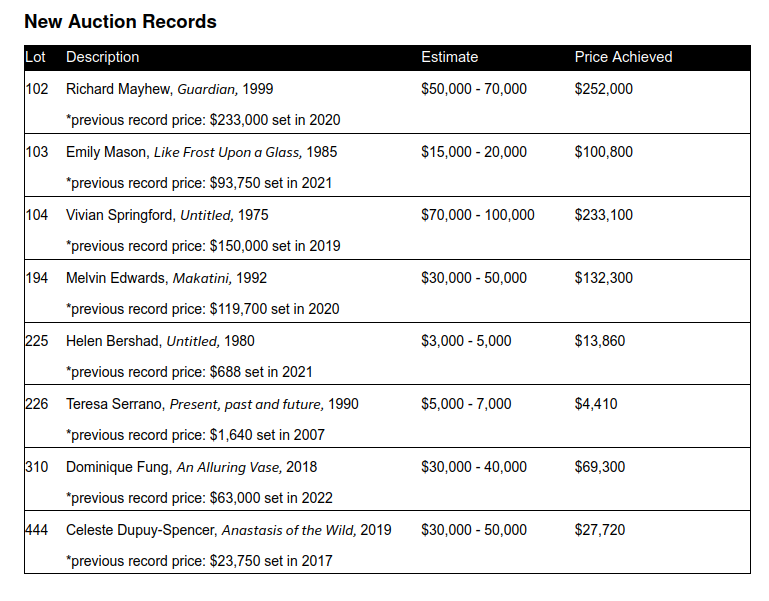 Phillips: New auction records last week
.
Christie's: $421.9 million from 20th and 21st century works in a single day
With $307.9 million for 20th Century Art, followed by $114 million for 21st Century Art, Christie's had an excellent day with just one hundred lots. Schiele, Magritte, Giacometti, Basquiat, Wool, Koons and Picasso were among the essential artists at its November 17 sale. The best result for a 20th century work rewarded Amedeo MODIGLIANI's Portrait of Beatrice Hastings ($17.56 million). In 21st century art, it was Jean-Michel BASQUIAT's Sugar Ray Robinson that attracted the highest bid at $32.6 million.
There was also an impressive new record for Rashid JOHNSON at $3 million for a painting completed this year (Surrender Painting Sunshine, 2022). This result and a few others confirm the extraordinary demand for works by young artists, whose eye-watering performances are discussed in detail in Artprice's latest Contemporary Art Market Report.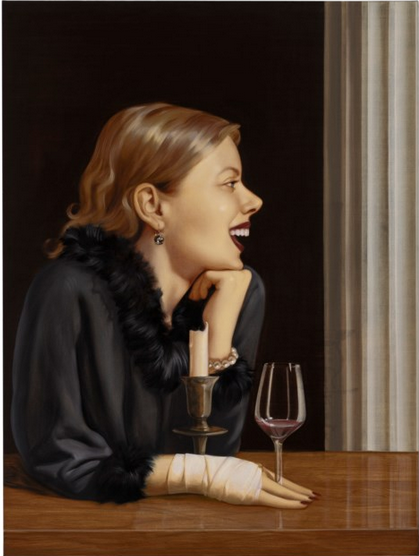 Anna Weyant, Loose Screw (2020): $1.5m (Christie's NY)
We should also mention the $856,000 obtained for a 2019 painting by Salman TOOR (4 Guests) because it multiplied its high estimate by five! The bidding was clearly motivated by Toor's impressive new record of $1.56 million hammered the previous day at Sotheby's (Four Friends, a painting also produced in 2019). Other results illustrate the ambient fervor for Ultra-Contemporary art: Anna WEYANT's Loose Screw fetched $1.5 million, three times its high estimate. At 27, Weyant is the youngest artist in the Gagosian stable and is attracting sustained auction avidity. She has conquered American collectors (among others) with a highly sophisticated style that dialogues between masterpieces from the Dutch Golden Age and the atmosphere of John Currin's (or even Balthus's) Hyper-Realism. The same amount – $1.5 million – was hammered for a painting by Noah DAVIS (Congo #7) and another by Shara HUGHES (New Moon Voodoo).