Niki de Saint Phalle braves the crisis
[2009年06月15日]

 After the sale of three Niki de Saint-Phalle's giant Nanas in Germany in December 2008 for €750,000, the Paris sale last month of her Le Banc produced another excellent result. The French-American artist – whose works are collected all over the world – is generating good sales performances in spite of the crisis.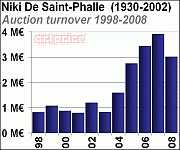 Born in France and raised in the United States, Niki DE SAINT-PHALLE successfully steered her career under the two flags at a key moment in the history of art and of the art market. Indeed, at the start of the 60s – when Niki de Saint-Phalle was creating her first Tirs and Nanas – the art market's centre of gravity was being pulled across the Atlantic towards the United States and the American Pop Art phenomenon. Niki, who was associated with the New Realists in France, created the most distinctly "Pop" works of the French movement using a playful iconography of curves and colours. By successfully establishing herself as a female artist on both sides of the Atlantic, Niki de Saint-Phalle managed to join the ranks of artists whose price-indices enjoy international recognition (unlike some of the other New Realists, including her partner Jean TINGUELY). Nevertheless, the market for her work has remained more dynamic in France, and 35% of her auction sales take place in her native country. In terms of sales revenue, the geographical breakdown of her auction sales (often involving monumental pieces) is as follows: 38% in France, 31% in the UK and 15% in the United States.
Her Nanas – buxom women made with fibres glass and painted in bright colours – easily reach and exceed the estimate. Niki created her first Nanas in papier mâché and fibre in 1965, inspired by a friend's pregnancy. Initially uncoloured, her joyous Venuses soon acquired multi-coloured surfaces – leading a playful revolution against gloominess. The very large and unique pieces – including some of her later works produced from the 1990s – sell for over €100,000. Her best-ever auction result was generated by a giant Nana (270 cm) in painted polyester which fetched $1m (nearly €780,000) at Sotheby's in New-York during the sale of the Vanthohournot Collection on 14 November 2006. Two years before this record, a Nana of the same dimensions fetched €360,000 in Paris (Sotheby's, 18 July 2004 La vie en rose – La danseuse rose).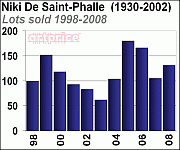 The price range for the Nanas is very broad because Niki made them in various different sizes and sometimes produced limited editions of the same piece. For a small Nana from the 1960s (less than 30 cm), one would expect to pay between €15,000 and €30,000. Indeed, a Mini nana acrobate of 20 cm doubled its price estimate in Paris last month when it sold for €26,000. With strong demand for her work already developing during her lifetime, Niki de Saint-Phalle decided to make her work available to a broader public by producing prints and small porcelain Nanas edited in 200 copies, some of which can be acquired at auctions for around €3,000 (one such piece recently fetched €2,800 at Venator & Hanstein in Cologne).
The price index for her sculpture-furniture is also regaining momentum. On 27 May 2009, a sculpture of a man reading a newspaper on a bench watched by an imaginary animal entitled Le Banc (1 of 3 copies) fetched €460,000, substantially more than its estimated value. The fact that the piece was presented at Christie's sale of a collection of pieces by François-Xavier & Claude LALANNE – hybrid works on the cusp of art and design – undoubtedly contributed to the result: the high number of furniture-sculpture pieces at the sale and the good results for the Lalanne works was the perfect context for the sale of the Saint-Phalle work.