Pierre Soulages: an artist who defied time
[2022年11月01日]

Pierre Soulages, one of France's most respected 20th century artist, died on 26 October at the age of 102. A major figure in the Abstract art, in recent years he had acquired the status of France's most sought-after (and most expensive) living artist.
Dedication to an essential artistic project
Originally from Rodez in the south of France, Pierre Soulages' long and highly demanding experimentation with light spanned nearly 80 years and resulted in more than 1,550 paintings (after destroying many that did not meet his high standards). His perfectionism and intransigence seemed to derive from an absolute ambition to capture the very essence of light – the source of all things.
"The more limited the means, the stronger the expression." Pierre Soulages
Pierre SOULAGES (1919-2022) painted his first abstract paintings in 1946. In 1979, focusing entirely on black, he went beyond the simple monochrome to explore an area of profound metaphysical inquiry. Not motivated by morbidity, his work with the color black reflected his desire to capture the reflection of light within a perimetered matrix. Describing his approach as 'Outrenoir' (literally 'beyond black') Soulages focused on the residual light in dark spaces, as though he was searching for the unknown. Each of his canvases appear to open a new mental space and his large formats works are majestically imposing, projecting their changing reflections into the viewer's perceptual space. Of primary importance in Soulages' œuvre, they invite the viewer to a form of meditation, a space where the impalpable can emerge. With complete disregard for the trends and modes of his era, Soulages' work literally defies time.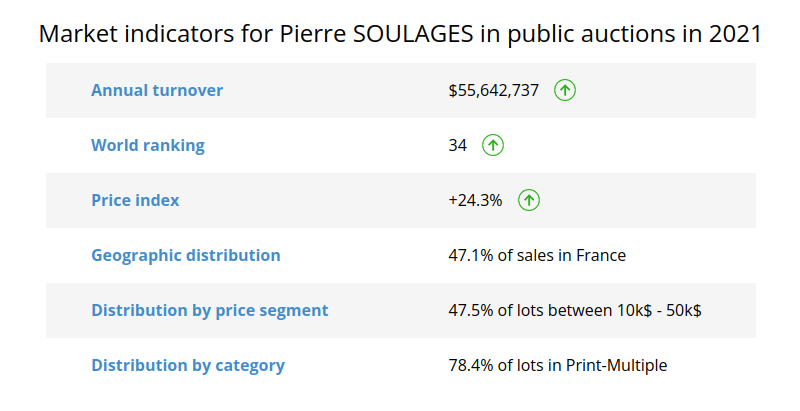 Prices driven by global demand
In market terms, Soulages' older paintings from the 1950s and 1960s fetch the highest prices: in November 2021 a canvas from his "red period" (Peinture, 4 août 1961) fetched his all-time auction record of 20.14 million dollars in New York. Painted during the summer months of 1961, the work spent more than 30 years in a private collection before dwarfing the artist's previous record of $10.6 million (Christie's New York, 2018). Twenty million dollars is an extremely rare price level for a contemporary-era French artist and reflects Soulages' global reputation as an essential painter among major foreign collectors of Abstract art, notably American and Asian.
With a new record of nearly $20.2 million, Pierre Soulages was, in 2021, the seventh most popular French artist born in the 20th century, as measured by auction turnover.
In terms of global annual (2021) auction turnover and focusing specifically on 20th century French artists, the $20 million result for Painting, August 4, 1961 raised Pierre Soulages to seventh place behind Zao Wou-Ki, Yves Klein, Louise Bourgeois, Chu Teh-Chun, Jean Dubuffet and Nicolas de Staël. But in addition to consecrating Soulages at the same price level as Art History's greatest Abstract artists, his other works auctioned last year generated an additional $35 million, taking his annual auction turnover to $55.6 million, the world's 34th highest annual auction turnover total (all nationalities and creative periods combined).
Pierre Soulages: annual results, turnover at auction (copyright Artprice.com)

Museums and recent price inflation…
Soulages was one of the first artists to delve into monochromes and his earliest black paintings date from the late 1940s. Today, his works hang in some of the world's most prestigious museums. The Phillips Gallery in Washington, the Guggenheim Museum, the MoMA in New York and the Tate Gallery in London all acquired his works, as early as the 1950s in some cases.
In 2001, he was the first living artist invited to exhibit at the Hermitage Museum in Saint Petersburg and then at the Tretyakov Gallery in Moscow. In 2009, some thirty years after an initial retrospective in 1989, the Pompidou Center in Paris hosted a major retrospective of his work that retraced more than 60 years of painting. The exhibition was a huge success, attracting more than 500,000 visitors. In 2014, his career was crowned by the inauguration of the Pierre Soulages museum in Rodez after a donation of a rich collection of works. For his centenary in 2019, the most prestigious museum in the world, the Louvre, offered him the greatest honor an artist could receive: an exhibition in the Salon Carré.
Despite such a high level of notoriety, Pierre Soulages auction prices long remained well below those of American artists of his caliber and his generation. The works of the American Franz KLINE (1910-1962) – another major proponent of black monochromes on the other side of the Atlantic – were, until just a few years ago, much more popular. Nowadays, the prices of Soulages's best paintings have caught up with Kline's. In addition, 80 paintings by the French artist have exceeded the $1 million threshold in auction rooms (the first in 2006, at Sotheby's Paris: Sans titre) compared to just 49 for the American artist.
.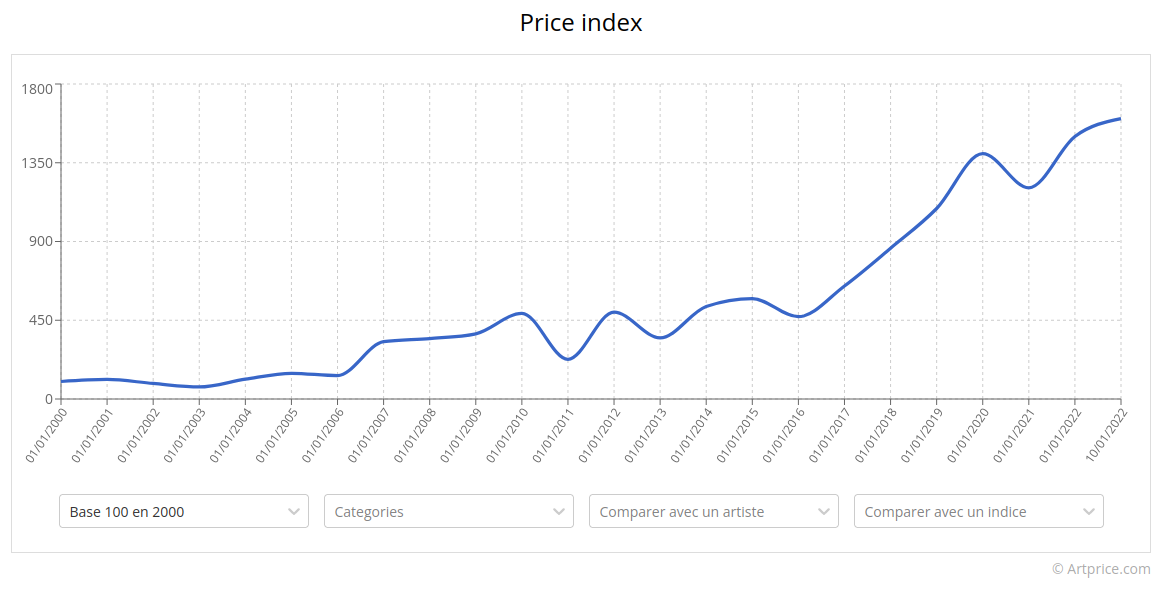 Two paintings for sale
A painting by Soulages (dated 1981) will be offered on Wednesday 2 November by the Aguttes auction house in the Paris region. Ophélie Guillerot, Aguttes Director of Contemporary Art confides: "It's quite special. It will be the first Soulages painting presented for public sale since his death. We will be on the front line so to speak". The canvas, measuring 102 x 81 cm and completed on 30 May 1981 is estimated between $600,000 and $1 million (Peinture 102 x 81 cm, 30 mai 1981).
On 14 November, Sotheby's New York will be offering a 1954 painting from the collection of David M. Solinger (Peinture 92 x 65 cm. 7 février 1954). Estimated $800,000 – $1.2 million, this dynamic and very well-dated work could generate a surprise…
Pierre Soulages: turnover at auction by geographic distribution (2000-2022) (copyright Artprice.com)
Geographic distribution(2000-2022)