Russians at the first Paris School
[2008年02月25日]

 

At the start of the 20th century, Paris was a veritable artistic capital and its momentum attracted artists from all over Europe and beyond. Art history tends to group these artists together in what is known as the First Paris School. Between 1900 and 1920 the group included a number of Russians living in the Montparnasse district, an area that was a hive of creative activity.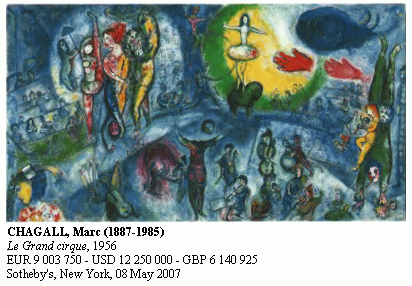 Arriving in Paris in 1910, Marc CHAGALL developed an independent art inspired by his Jewish culture and his work was taken up by a broad spectrum of art collectors. Today, the United States and the UK generate almost 80% of the total global revenue from public sales of Chagall's work, with France and Switzerland sharing the remaining 20% of the market. In 1990, Chagall's success was truly global with 24 auction sales topping 1 million dollars, including one at Sotheby's New York that generated 13.5 million dollars for a 1923 painting entitled Anniversaire. After the crisis of the art market at the start of the 1990s and over the following twelve years, none of Chagall's works generated over 10 million dollars.
However, since 2002, Chagall's prices have flirted with their former peaks with, for example, USD 12.25 million in May 2007 for Le Grand cirque, a mixed-technique work measuring over 3 metres wide (again, Sotheby's NY). This renewed confidence in Chagall has also had a positive effect on the prices of Chaim Soutine's and Alexander Archipenko's work.
In fact since 2001, Chaïm SOUTINE's overall sales revenue has literally exploded in volume. Over the last 6 years, there have been 24 sales of Soutine's work at over a million dollars each, with the highest numbers generated in 2006 and 2007. In 2006 his 1924 painting Bœuf écorché fetched GBP 7 million at Christie's in London (over USD 12 millions dollars). The following year L'homme au foulard rouge generated his all-time price record when it sold for GBP 7.8 million at Sotheby's whereas Christie's had sold the same painting for the equivalent of GBP 1.4 million in 1997. However, these big numbers do not appear to have triggered a speculative rush; the London sales at the beginning of February 2008 have indeed illustrated just how choosy collectors have remained. Of the eight works submitted for sale, only one was actually sold; entitled Les Platanes à Céret, the painting sold for GBP 550,000 at Christie's whereas a better version of the same subject fetched GBP 780,000 last June at Sotheby's.
Alexander ARCHIPENKO has also enjoyed strong sales momentum with his first million-dollar sale in June 2005. The subject of this sale was a cubist-style painting entitled Woman that fetched GBP 1.3 million (almost 2 million euros) at Christie's in London. Archipenko's cubist works are so rare at auctions that even his smaller works (±30 cm) easily fetch USD 500,000. However, his works dating from after 1920 sell for between 20 and 150 thousand dollars.
In this price bracket you are more likely to encounter one of his bronze sculptures that were produced in greater quantity; only one or two of his paintings come up for sale each year compared to about twenty sculptures. At the February 2008 sales in London, for example, a female nude in bronze entitled Flat Torso (1914) sold at Sotheby's for GBP 65,000 (roughly USD 130,000).
American and British auction houses regularly offer the major works by the most sought-after artists of this group such as Chagall, Soutine or Gontcharova. Nevertheless, for amateur collectors, France is still a veritable "attic" of works from the First Paris School. Indeed, most of Ossip ZADKINE's sculptures, numerous paintings by Nathalie GONTCHAROVA and above all, the vast majority of works by Léopold SURVAGE (90% of transactions) and Serge CHARCHOUNE (87% of transactions) are sold in France.
In terms of value, Charchoune's price index, for example, gained 350% over ten years (1997 – 2007). His smaller works usually sell at actions in France for around 5,000 euros and his larger/better works generate 10 to 50 thousand euros. Charchoune, however, remains rare on the Anglo-American market.