Sotheby's: memorable results in 2022
[2023年01月10日]

2022 turned out to be an epic year on the art auction market with lots of remarkable masterpieces generating lots of new records. Artmarket by Artprice focuses on some of the results that made 2022 such an extraordinary year.

At the end of 2022, Sotheby's posted an overall turnover of 8 billion dollars (i.e. $400,000 less than Christie's), a figure up nearly 10% versus the previous year, although the total includes turnover from luxury goods, vintage cars and real estate as well as art sales. In May, Sotheby's hosted the second leg of the dispersal of the private collection triggered by Harry Macklowe's and Linda Burg's divorce, taking an additional $246 million after the first leg raised $676 million in November 2021. Announced as one of the most beautiful private collections ever accumulated, it has since faced stiff competition from Christie's, which managed to obtained the consignments of three major collections: those of Paul G. Allen, Thomas and Doris Ammann, and Anne H. Bass.

Armarket by Artprice focuses on a selection of Sotheby's most notable results over the past year.
René Magritte
On March 2 Sotheby's hammered a stunning new auction record for René Magritte when an iconic canvas from his famous Empire of Lights series fetched $79.3 million, more than $50 million above his previous auction high. It has taken just four years for Magritte's auction record to rise from $26.8 million to $79.3 million. This evolution has effectively made the Belgian artist one of the current art market's unavoidable signatures
Francis Picabia
In March, Sotheby's Paris hammered a new record for a Surrealist work by Francis PICABIA (1879-1953). The sale's Director, Thomas Bompard, said "we are particularly proud to have set a new auction record for Picabia as he is undoubtedly the most regularly sold 20th century painter since Sotheby's starting hosting Modern Art sales in France". Created in 1929 for the major decoration project in the Parisian apartment of art dealer Léonce Rosenberg, the object of the record is a painting titled Pavonia, one of Francis Picabia's most famous Transparencies. It was the first time a Picabia work has crossed the $10 million threshold ($10.9 million including fees).
Yves Klein
Although not the top price paid for a work by Yves KLEIN (1928-1962) in 2022, the receipt for a Zone of immaterial pictorial sensibility sold by Sotheby's Paris last April deserves note. Representing an essential moment in 20th century art, this rare "receipt" (a piece of paper signed in 1959) fetched $1.16 million. Although Yves Klein sold many copies of these receipts in exchange for zones of immaterial pictorial sensibility, he encouraged their buyers to burn them. So very few of them have survived to this day…
Pablo Picasso
Sotheby's fetched the highest price paid for a work by Pablo PICASSO (1881-1973) during 2022 when his Femme nue couchée (1932) exceeded $67.5 million at its New York Modern Art Evening Auction on May 17, becoming one of the most valuable portraits of Marie-Thérèse Walter ever offered sold publicly. Picasso had fallen in love with the 17-year-old girl when he was 45 and he was aware of her notoriety. Marie-Thérèse Walter was a source of inspiration for many of Picasso's works. In Femme nue couchée, she is depicted with the sensual limbs of a sea creature.
Francis Bacon
Sotheby's sold several very important paintings by Francis BACON (1909-1992) this year, including Study for Portrait of Lucian Freud, which had been in a private collection for some 40 years. This canvas painted in 1964 was to be the centerpiece of a large triptych before the artist changed his mind and decided to make it an individual piece: the solo work, measuring almost two meters high, nevertheless reached the price of a triptych, i.e. $52.5 million on June 26 in London.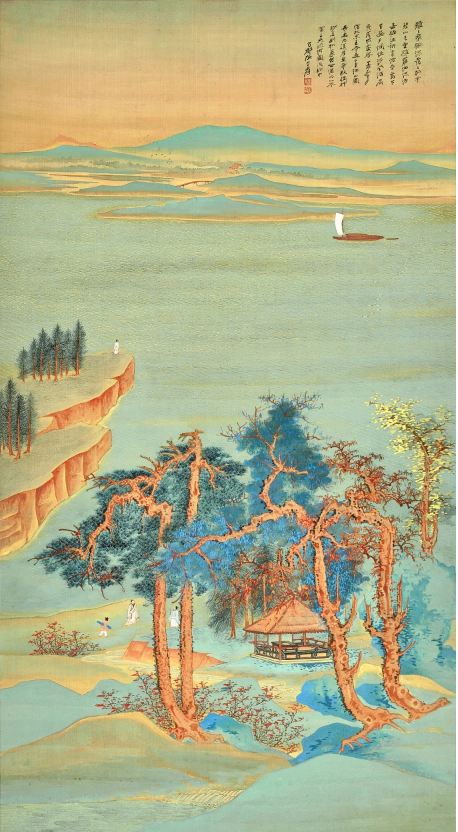 ZHANG Daqian, Landscape after Wang Ximeng (仿王希孟〈千里江山圖〉) (1947)
ZHANG Daqian
An essential 20th century Chinese artist, works by ZHANG Daqian (1899-1983) are courted by Chinese collectors at prices that surpass those of the great Western masters. In April 2022, almost 40 years after the artist's death, his blue-green landscape d'après Wang Ximeng joined a private Asian collection after an 18-minute bidding battle with more than 50 bids, fetching $47.2 million. This exceptional result set a new auction record for the artist and generated Sotheby's best result for a work of Chinese art. It was also the second highest price for any artwork sold through Sotheby's in Asia. In 2011 and 2016, Zhang Daqian was the world's most popular artist, ahead of Pablo Picasso, based on annual auction turnover.
Piet Mondrian
On November 14, Sotheby's offered Composition No. II by the Dutch artist Piet MONDRIAAN (1872-1944). Painted in 1930 while the artist was living in Paris, the President of Sotheby's Europe, Oliver Barker, described the work as an undeniable masterpiece by the artist, bearing the signature of Mondrian's elementary and revolutionary approach to composition". One of the artist's most important works ever offered at auction, the masterpiece fetched $51 million, adding almost half a million to his previous record (obtained in 2015 at Christie's) for a very similar canvas.
Willem de Kooning
In November, Sotheby's presented a sale dedicated to Willem DE KOONING (1904-1997), with three masterpieces from the collection of the de Kooning family: an "extraordinary" ensemble spanning three decades of Willem de Kooning's life and work. Each painting, personally selected by the artist's daughter, Lisa de Kooning, represents the culmination of a decade: that of 1979 sold for nearly 35 million dollars, the third best auction result ever hammered for a work by the great American artist.