Space Invaders: the invasion continues!
[2022年12月23日]

Until 22 January, the Over The Influence gallery is hosting Space Invader's first Parisian solo show in 11 years. Over The Influence, which opened this summer in the French capital, was founded in Hong Kong in 2015, expanded to Los Angeles in 2018 and then to Bangkok in 2022. In Paris, the gallery is presenting 40 works in an exhibition titled "Invader, 4000". The forty works echo 40 pixelated creatures installed by the street artist around the world. Each piece is a replica of an in situ work, an alias intended for the art market. These aliases are presented along with photographs of the in situ works in their urban environments because the Invader's choice of location for the mosaics is always a carefully planned decision that has a particular sense or meaning.

The location of the mosaics is "an essential element of the process which is totally subjective; it's a question of finding the nerve centers of the cities that I travel through. It takes a lot of time, there's a lot of scouting work. I often compare it to urban acupuncture."

Since the Parisian exhibition opening on December 10, the number of visitors has been so high that the OTI gallery has been forced to instigate a 'by appointment only' policy.

There can be no doubt, Invader is immensely popular. His instantly recognizable work and his repertoire from popular visual culture have conquered the whole world. The longevity of his playful and colorful work and the artist's pugnacity over 25 years have also clearly played a major role in establishing INVADER's global reputation. His "Space Invaders", pixelated mosaics inspired by the aesthetics of the first video games, have been planted in more than 80 cities in operations the artist calls "Invasions". In total, he has already fixed more than 4,000 mosaics around the world.
At what prices?
At the Over The Influence gallery, the works are priced between 38,000 euros for small formats and 500,000 euros for the largest (between $40,400 and $532,000). These are substantial prices, which happen to be in line with the good results his works have obtained at auctions. Indeed, Invader's mosaics have already elicited enthusiastic bidding. Last December 1, for example, during a Parisian Contemporary Art sale at Christie's, a small format mosaic measuring 20 x 21.7 cm – BRC_13 (2013) – fetched $72,800 against an estimated range of $37,000 – $58,000. BRC_13 had recently been purchased at an exhibition hosted by Over The Influence in Hong Kong. During the same sale, Christie's sold a slightly larger format (MIA_09, 2010, 35 x 44 cm) for over $105,000, twice the low estimate!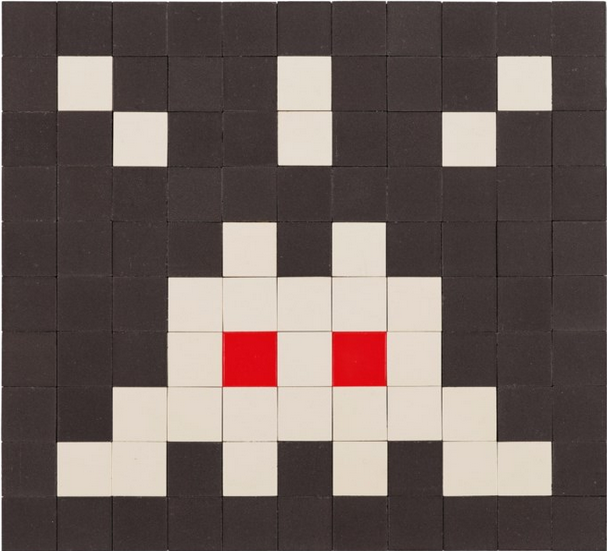 Invader, BRC_13 (2013), $72.809, at Christie's Paris (1st December 2022)

Such six-figure auction results are not by any means new for Invader. The first was hammered in 2015 at Christie's Hong Kong for an imposing 210 x 240 cm mosaic (ALIAS HK-59, 2014) that fetched $345,000. However, there has been an acceleration of this type of result over the past three years. Since 2019, the street artist's market has acquired another dimension with the breathtaking result for a mosaic in homage to the emblematic Japanese manga series: estimated between $100,000 and $150,000 at Sotheby's New York, his Astro Boy: Tk_119 (2014) fetched over a million dollars, with a final price at $1.22 million.
Evolution of INVADER's annual auction turnover: first peak in 2019 (copyright Artprice.com)


This year, INVADER's works have generated more than 3 million dollars at auction, on a totally international market: France, UK, United States, Hong Kong and Japan, but also Switzerland and Italy, and many other European countries.
Who is Invader?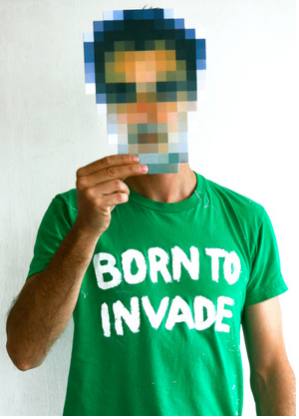 "I define myself as an Unidentified Living Artist (translator's note: a play on the French acronym for UFO). I took INVADER as my pseudonym and I always appear masked. This allows me to visit my own exhibitions without visitors suspecting my identity or noticing my presence even when I am standing next to them! Since 1998 I have developed a large-scale project code-named: Space Invaders."
Born in France in 1969, a graduate of the prestigious Ecole des Beaux-Arts in Paris, Franck Slama chose the pseudonym Invader to remain anonymous, like another famous street artist, Banksy. His face may not be known, but his small pixelated characters named Space Invaders have integrated our urban environment for a quarter of a century. Invader began tagging in Paris in the late 1990s with ZEVS, with whom he formed the @nonymous group. Since the installation of the first Space Invader in 1998, more than 4,000 mosaics have been installed worldwide.
Since 2014, Invader's fans have a dedicated mobile mobile application (Flash Invaders) that has been downloaded by 140,000 users. This fun app allows users to photograph each Space Invader they come across, which are instantly recognized by the application (like a QR code). These collections of images on FlashInvader generate points, like an online game. Invader seems to have found a perfect intersection between Street art, geek culture and urban wandering…
Exhibitions
Invader's work has been exhibited in the following institutions: the MGLC in Ljubljana, Slovenia; the HOCA Foundation in Hong Kong; the MOCA in Los Angeles; the MCASD in San Diego; the Ingres Museum in Montauban, France; the BALTIC Center for Contemporary Art in Gateshead, UK; and the Daejeon Arts Museum in South Korea.