Stability: the new market standard?
[2019年11月18日]

Following their Impressionist & Modern Art sales last week, Christie's and Sotheby's Contemporary Art sessions generated a combined total of $595.8 million, down 11% on last year's total, but still reflecting a remarkably buoyant market.

After New York's latest round of major Contemporary Art sales, an article in the New York Times suggests that stability rather than excitement has become the new market standard (For Auctions, It's 'No Froth,' but 'Steady.' That's the New Normal by Scott Reyburn and Robin Pogrebin, 15 November 2019). While the observation seems fair, the market can hardly be described as sluggish. True, the recent results are more or less 'in line' with the quality of the works on offer, but they also prove that buyers – when given the opportunity – are still willing to pay top whack for the best works. In reality, the recent sales simply lacked major works by major market heavyweights. Jean-Michel BASQUIAT is the big absentee on this year's high-end market. In 2017 one of his paintings – a major work from 1982 – fetched $110.5 million. This year, his best result is just a fraction of that sum ($12.2 million for Pyro on 3 October at Sotheby's) reflecting a distinct shortage of outstanding masterworks in circulation.

Naturally, the shortage of masterpieces affects the overall results. After a -32% drop on their Imp/Mod prestige sales (vs. November 2018), Christie's and Sotheby's have posted better performances for their prestige Contemporary Art sales (down just -11% vs. November 2018, from $671.7 million to $595.8 million). In effect, the natural rarefaction of masterpieces is leading the Art Market towards a paradigm shift… Contemporary Art is overtaking Impressionist & Modern Art in volume and profitability… The combined respective totals for New York's recent prestige evening sales confirm this trend: $595.8 million versus $400.8 million.
Ed Ruscha. Price index

Copyright Artprice.com

$100

invested in a work by Ed RUSCHA in 2000 would be worth an average of $1,046 (+ 946%) in November 2019
Ed Ruscha in the limelight
One painting was particularly anticipated at Christie's on 13 November: Hurting the Word Radio #2 (1964) by Ed RUSCHA from the prestigious Menil Collection in Houston. Carrying an optimistic estimate of $30 to $40 million, the result of $52.5 million (including fees) set a new record for the artist, adding some $22 million to his previous record of $30.4 million for Smash (1963) five years ago. If Warhol is the historical 'King of Pop', Ruscha – his junior by 10 years – is the 'Prince of Pop' after this enthusiastic 'consecration' by major collectors. Ruscha's 2019 auction turnover for 2019 is already close to $90 million, his best-ever annual total. Hurting the Word Radio #2 generated the best result of the two evening sales ahead of $30.1 million for Willem de Kooning's Untitled XXII, $29.5 million for David Hockney's Sur la Terrasse, $24.5 million for Mark Rothko's Blue Over Red, $24.3 million for Clyfford Still's Ph-399, $20.5 million for Gerhard Richter's Vogelfluglinie, $19 million for Andy Warhol's Big Electric Chair and $18.5 million for Kerry James Marshall's Vignette 19 (confirming the phenomenal recent success of the African-American scene).
Continued price growth for African diaspora artists
Two spectacular results confirm the price inflation on works by African-American artists. First and foremost, Kerry Marshall's Vignette 19, which added $11 million to its high estimate at Sotheby's on 14 November, generating the artist's second-best auction result behind the $21 million hammered in May 2018 at Sotheby's for his large-scale masterpiece Past Times (275 x 398.8 cm). On a smaller scale, but nevertheless remarkable, a drawing titled Ye Shall Inherit the Earth by Charles Wilbert WHITE (1918-1979) set a new record for the artist at $1.76 million. Currently supported by a major retrospective that has crossed the United States from the Art Institute of Chicago to the Los Angeles County Museum of Art (LACMA), via the MoMA in New York, Wilbert White's charcoal drawing was hammered down for a million dollars above its high estimate.
Kerry James Marshall. Turnover: chonological progression Copyright Artprice.com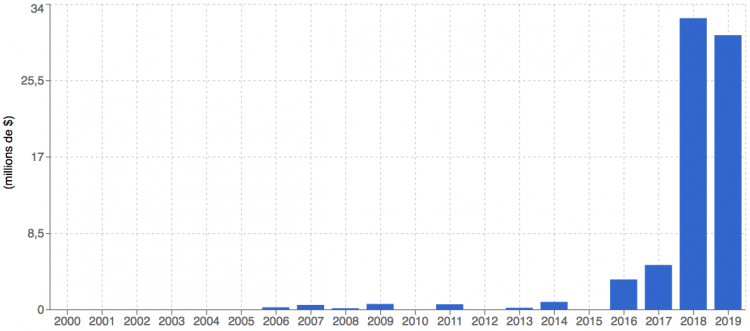 Besides the sales turnover generated by the auctioneers last week in New York, other signs of the market's stability and robustness were seen last week in cases of successful resales. Joan MITCHELL's Plowed Field (1971) was acquired in November 2003 at Christie's New York for $657,100. On 13 November last, the same work fetched $13.3 million. Likewise, Basquiat's Brown Eggs (1981) sold in 2004 for $254,000 and then in 2015 for $1.86 million. On 14 November the same work fetched $5.4 million at Sotheby's… at more than double its low estimate. In short, demand is buoyant, and for certain works, collectors are willing to invest serious money.