Symbolism: strongly-contrasting price fluctuations in a multi-faceted movement.
[2003年10月09日]

 

Around 1890, in a reaction against impressionism and the creeping materialism of the industrial revolution, a new pictorial language began to emerge across Europe, symbolism. Not content with reproducing the real world, the symbolists broke away from narrative and landscape art and its canons, and sought to connect with their viewers' sensitivity through shapes and colours. Prices for their work have risen steadily in the past 10 years (+116% between 1992 and June 2003), but the diverse personalities and nationalities making up the symbolism movement is reflected in a wide variation in prices.

Artprice Index of Symbolist paintingsbase January 1993 = 100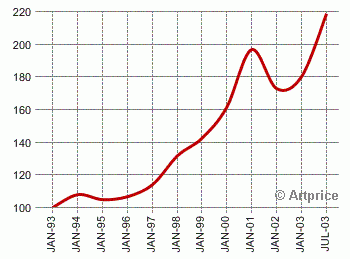 France In France, the movement first flourished through Gustave MOREAU, Pierre PUVIS DE CHAVANNES and Odilon REDON, who was with Eugène Anatole CARRIERE the most prolific in his output. Since 1 January, over 530 of Redon's works have come up for auction, with prints making up 60% of these. His record price is USD 1.2 million for the painting Le Monde des Chimères, knocked down at Sotheby's New York in 1998, but 80% of his works on paper go for less than EUR 150,000 apiece. Investors, though, should expect to pay EUR 300,000-500,000 for a large format pastel drawing. But the index for the movement's star artist has slipped by 15% since 1997. In contrast, Henri Martin works, more than fifty of which come up for auction every year, have risen in price by 18% since the beginning of the year. Artists who have beaten their records in the first half of 2003 include Charles FILIGER, Armand POINT and Henri Jules Charles DE GROUX. BelgiumIn Belgium, the movement revolved round two important art salons, the Salon des XX (the Twenty) and the Libre Esthétique. The key figures were Théo VAN RYSSELBERGHE, James ENSOR, Eden BLAKELOCK, Ernst JOSEPHSON, Jean DELVILLE, Léon SPILLIAERT and Antoine WIERTZ. Not only is James Ensor the most visible of these artists with over 1,000 lots sold since 1992 but his price index has been one of the fastest growing in 2003, having doubled in the first half of the year. Prices for Théo van Rysselberghe's works, however, have been on a downtrend since the start of the year, despite the record for Voilier de l'Escault in November 2002 which sold for USD 2.4 million at Sotheby's New York. Northern EuropeClose to the Belgian School are a handful of Dutch symbolist artists, the best-known being Johan THORN PRIKKER and Jan TOOROP, whose index has tripled since 1992. A number of Scandinavians were also inspired by symbolism, including Vilhelm HAMMERSHOI, August STRINDBERG, Gustaf FJAESTAD, Jens-Ferdinand WILLUMSEN, and the undisputed star of the movement's northern wing, Edvard MUNCH. Like many Nordic symbolists, prices for Munch's drawings or paintings appear to have been in decline since the beginning of the year. And the price index for his prints, which are in plentiful supply at auctions, has collapsed to less than half what it was in 2002, and is now back at 1998 levels. It is not uncommon to see some lithographs going for well below their estimates. Madona (1895) estimated at USD 150,000-200,000 was knocked down for only USD 95,000 at the Swann Galleries on 1 May 2003. GermanyGermanic symbolism can boast the movement's highest quoted artist, Gustav KLIMT. His landscapes, which account for almost a quarter of his total output fetch in excess of USD 10 million at auction. His record sale is GBP 13,200,000 in 1997 with Schloss Kammer am Attersee II (1909), but since 2001 his prices have fallen unremittingly. Moving in the other direction is popular German symbolist Max KLINGER, a prodigious print maker. His prices jumped 8% in the first half of 2003. But most German or Austrian symbolist artists hardly even make it to the auction stands. Only one painting by Carlos SCHWABE and three by Ludwig VON HOFMANN were put up for auction in 2002. Mind you, Von Hofmann did beat his record in May 2003 with Frühlingstanz (EUR 26,000 at Villa Grisebach in Berlin). Germanic influence spread to their Swiss neighbours, particularly Ferdinand HODLER who celebrated his 150th anniversary this year. Some high profile-exhibitions in Switzerland helped drive Hodler's prices up by 50% in the first season of 2003. ItalyThe movement also spread widely through Italy. But although works by Giovanni SEGANTINI sometimes sell for several million dollars, works by less famous artists have a big buy-in rate. Not one painting by Giuseppe Pellizza da Volpedo or Giovanni Costa put up in 2002 found a buyer.
So although this segment of market can still spring some surprises on the upside, caution is paramount. More than ever, collectors must study an artist's market trends carefully to avoid investing in a work that can only be sold at a heavy loss.