Upcoming masterpieces: Picasso, Lichtenstein, Bacon… and many more
[2020年06月23日]

After months of lethargy, the high-end market is bouncing back into action with Christie's and Sotheby's both organising live online sales. We take a look at the offering, including several museum-worthy pieces that could well jump start a prestige market that has been almost dormant for three months.
An unprecedented "global" event on 10 July called ONE
Christie's has announced it will be hosting a totally innovative sale on 10 July that will not only be both in-person and live online, but will switch, as a continuous event, from Hong Kong to Paris, to London and to New York in relay. This is of course the first of its kind – not just a hybrid format concept sale exploiting digital technologies, but one that crosses borders as a sequential 'global sale'. In its press release, Christie's describes "ONE" as an "unprecedented event" bringing together "cross-border and cross-category art" including masterpieces by Picasso, Lichtenstein and Zao Wou-Ki among others, some of which are valued at tens of millions of dollars.
Three museum-quality canvases are worth noting: first a major PICASSO, Les femmes d'Alger Version 'F' from one of Picasso's most famous series (which also includes the work that generated his best-ever auction result in 2015 at nearly $180 million). The 'F' in the title indicates that it was the sixth canvas in the 15 which made up the series (Picasso identified them by letters from "A" to "O", during a period of intense creativity between December 1954 and February 1955). Christie's expects this canvas to fetch "around $25 million".
Version 'O': The highest added value in history
Picasso's all-time auction record was generated by a work from the same series as that being offered by Christie's on 10 July when, on 11 May 2015 Christie's New York sold Les femmes d'Alger (Version 'O') (1955) for $179.3 million. That result was also the highest value accretion ever recorded on the public art market; the work added no less than $147 million to its value in less than 20 years having sold for just $32 million at Christie's in 1997.
However, according to Christie's estimates, Picasso's "F"Version could be overtaken (price-wise) by a large Roy LICHTENSTEIN canvas (Nude with Joyous Painting, 1994, 178 x 135 cm) and by an important Ed RUSCHA painting that has remained in the same collection since 1987 (Annie, 1962), both estimated around $30 million each. Considering the troubled period the market has been experiencing, the offer might seem ambitious and the risk is considerable; but the success of these sales would provide impetus for the prestige sales later in the year.
$90 million from two works on 29 June?
While Christie's has decided to lump Modern and Contemporary art together, Sotheby's, for its live online sale on 29 June (absentee, telephone and online bidding only) has focused on a traditional Post-War & Contemporary format. The sale includes a work from Basquiat's best period, Head (1982), expected to fetch around $10 million. The same work sold for $360,000 in 2000 (Untitled), but the price index for Basquiat's paintings has risen by almost 3,000% since then, and the world's top collectors are looking for works in this vein.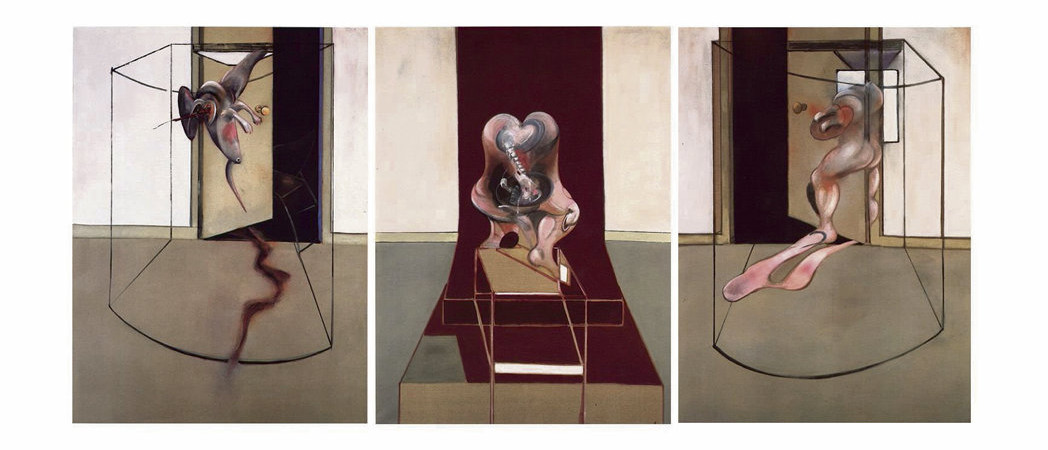 Francis Bacon, Triptych Inspired by the Oresteia of Aeschylus, 1981, 198 x 147 cm (source Astrup Fearnley Museet, Oslo.)
.
Another work being offered could be worth eight times the expected value of the Basquiat painting… a Francis BACON triptyque entitled Triptych Inspired by the Oresteia of Aeschylus (198 x 147 cm) that is undoubtedly the absolute highlight of the season. For a private buyer, owning a work of this stature would be tantamount to competing with the best triptychs in the collections of the MoMA, the Guggenheim or the Tate…
Never previously offered on the auction market, the work is well known to the public having been loaned to all the major Francis Bacon exhibitions: the Tate Gallery in London, the Prado in Madrid, the MoMA in New York, the Beyeler Foundation in Basel and, more recently, the Bacon en toutes lettres exhibition at the Pompidou Center in Paris.
The quality and pedigree of the work have prompted Sotheby's to attribute an estimated range of $60 to 80 million. If it sells within this range, it will become the most expensive work of the year so far… but not the most expensive work by the artist, since three Bacon triptychs which have already fetched over $80 million in public sales:
Top 3 Francis Bacon works



Three Studies of Lucian Freud, 1969: $142.4 million, Christie's, 12/11/2013

Triptych, 1976: $86.3 million, Sotheby's, 14/05/2008

Studies for a Portrait of John Edwards, 1984: $80.8 million, Christie's, 05/13/2014