Yet another white glove at Phillips!
[2021年06月29日]

After the excellent results at its Hong Kong sale with Poly auction on 7 and 8 June, the British auction company hosted yet another 'white glove' sale (all lots sold) on 23 June in New York, generating a total of $118.2 million.

For Jean-Paul Engelen and Robert Manley, heads of 20th Century and Contemporary art at Phillips, the sale was "a great achievement for our international team" and demonstrates the strength of the 20th Century and Contemporary Art market in all categories. Emerging and historically under-represented artists strongly marked the evening, with very entusiastic interest expressed for works by Emily Mae Smith, Jade Fadojutimi, Amoako Boafo, Salman Toor and new records set for Cinga Samson, Avery Singer, Vija Celmins, Titus Kaphar and Julie Curtiss.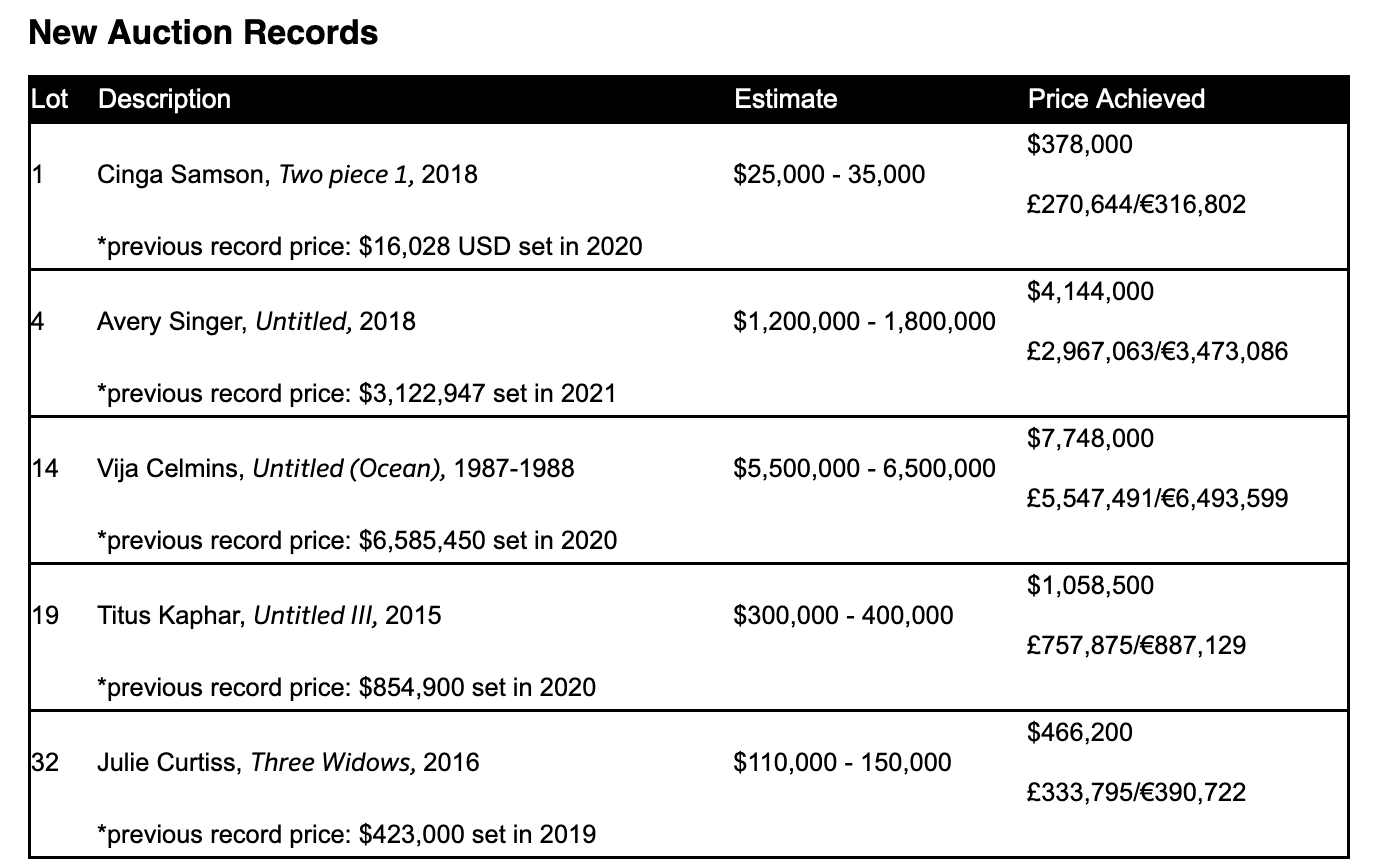 Hockney; the star of the sale
Highlight of the evening, David HOCKNEY's canvas A Neat Lawn (1967) sold for $11 million. It was perhaps the only disappointing result of the sale since Phillips was hoping for up to 18 million. However, the result represents an increase of 1,780% in 33 years!… a figure that somewhat offsets the "disappointment" of the price obtained…
Price evolution of David Hockney's A Neat Lawn:
Sotheby's, London, 1 December 1988: $585,000
Christie's, New York, 9 May 2006: $3.6 million > increase 515%
Phillips, New York, 23 June 2021: $11million > increase 205%
Looking at our provisional ranking of artists by auction turnover so far this year, Hockney has now joined the Top 50 most successful artists in the world, all creative periods combined. However, if he is to reach the Top 10 (where he has been for the past three years) the auctioneers will have to find other larger paintings over the comings months to offer the market.
x10!
Among the hottest emerging artists of the moment, three managed to sell at prices representing ten times their estimates. In fact, demand is high for the new stars of the painting genre who are already very well supported.
Cinga SAMSON (b. 1986): winner of the Tollman Prize in 2017, exhibited at the Armory Show in New York in 2018 and then with a solo show at Perrotin New York in 2020, the young South African has begun his auction price ascension: $378,000 was paid for his Two piece 1 (2018) versus an estimate of $25,000 – 35,000.
Jadé FADOJUTIMI (b. 1993): after a resounding exhibition at the Pippy Houldsworth Gallery in London and a surprising record two weeks ago in Hong Kong, the young artist is continuing to attract vigorous bidding that was confirmed at Phillips with a six-figure results (Untitled, $390,600).
Emily Mae SMITH (b. 1979): fifteen days after the artist's record 7-digit result in Hong Kong ($1.6 million), Phillips had not readjusted the estimate of her painting Waiting Room (2015). The result was a bidding battle that ended at $756,000 against a high estimate of $60,000.
x4, x6, x7, x8!
Other value surges at the Phillips sale concerned artists born in the 1980s, including:
Avery SINGER (b. 1987): new record of $4.1 million (Untitled)

Salman TOOR (b. 1983): new record of $890,000 (Fort Greene)

Matthew WONG (1984-2019): record for a canvas measuring less than one meter: $2,329,000 (The Reader, estimated $600,000 – 800,000)
Julie CURTISS (b. 1982) : $466,200 (Three Widows, estimated $110,000 – 150,000)
Amoako BOAFO (b. 1984): $655,200 (Untitled, estimated $80,000 – 120,000)