Art & Antique Residenz Salzburg
(2019年04月13日 - 2019年04月22日)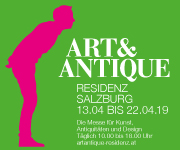 Art & Antique Residenz Salzburg
Residenz Salzburg
萨尔茨堡
奥地利
ART&ANTIQUE Residenz Salzburg
The Master Singers conquer the Festival stage and masterworks of art, antiques and design return to the Residenz!
Once again, Salzburg unites all the arts at Eastertide: fine arts at the ART&ANTIQUE Residenz Salzburg and performing arts with Wagner's Die Meistersinger von Nürnberg at the Salzburg Easter Festival. There, on the opera's festive meadow, the master craftsmen dedicate themselves to their ancient singing competition with its strict rules.
Until Walther von Stolzing has the nerve to break those rules, while Hans Sachs recommends honouring tradition anyway.
< Thanks to its outstanding exhibitors from Austria, Germany and Belgium, the ART&ANTIQUE manages to do both, and for the 44th time: antiques and daring strokes of genius, modernism and tradition are all united here in excellent quality, intriguing in its combinations and confrontations.
Old masters meet contemporary paintings, sculptures of antiquity keep company with ceramics created in Vienna around 1900. And time-honoured crafts also prove their attraction: precious furniture, silver objects, glasses, jewellery, watches and many other highlights make the Residenz a treasure trove of fine art.
Find all exhibitors here: Art Salzburg Exhibitor List
More Informatin on Art & Antique Salzburg can be found here