Five very important painters over 99 years old
[2019年11月26日]

Pablo Picasso was 56 when he painted Guernica in 1937, and some say it was the pinnacle of his career, with his best works already behind him… It was sometimes suggested that during his 35 remaining active years, Picasso – the most imaginative of the artists of the 20th century – never reached the same level of creativity. It's just one opinion of course… but when his painting Les femmes d'Alger (Version 'O') dated 1955 sold for the record price of $179 million in May 2015, that sort of thinking appeared to no longer hold sway on the art market.

Some artists have very long careers and our fascination with their early work can sometimes act as a block to our appreciation of their later work. Often the market only really begins to acknowledge later works when earlier works start becoming rare on the auction market.

As thierry Ehrmann, founder/CEO of Artmarket.com, put its: "artists generally tend to live much longer these days. By the time celebrated artists reach the age of 99, they often enjoy considerable prestige and celebrity, generating an aura on which museums, galleries and nowadays, even auction houses, have learnt how to capitalise."

We have identified five major artists, all of whom have reached the age of 99 or beyond, and all of whom are still at the forefront of art market news.

On the eve of his 40th birthday, Pierre Soulages painted Peinture 186 x 143 cm, 23 décembre 1959. In November 2018, that painting fetched his auction record of $10.6 million suggesting the market considers it his best work to date. His other auction results also suggest that the period 1955-1965 corresponds to the 'peak' of his career.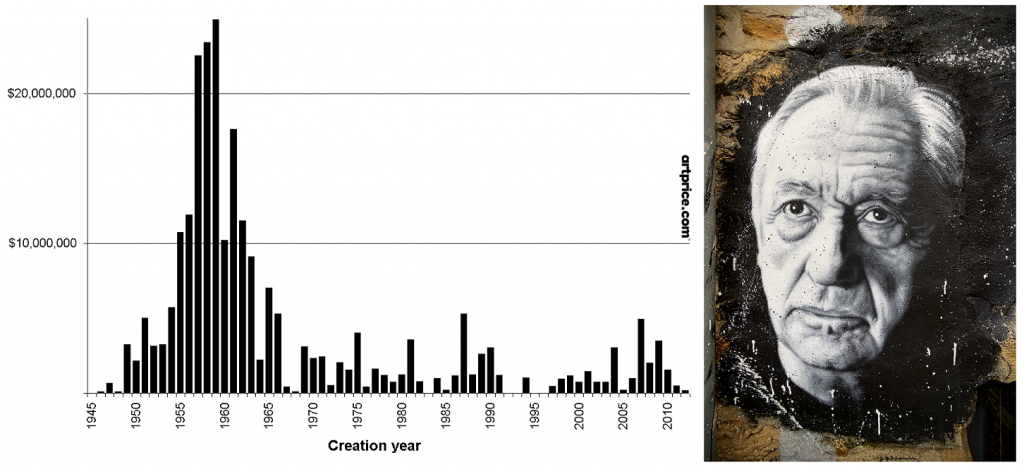 Pierre Soulages' auction turnover (2000- Nov. 2019) by creation year – left
Pierre Soulages ©thierry Ehrmann – Courtesy of Organ Museum / Abode of Chaos – right
However, he never stopped painting and he pursued research into "outrenoir" (beyond black) for many years. Galerie Perrotin's branch in Shanghai is currently showing his most recent paintings (2017 and 2018) until next 28 December. Back in France, the world's largest museum, the Louvre, will soon be offering him the best gift an artist can receive: an exhibition in the famous Square Salon, as of 11 December 2019.
In New York, the Acquavella Gallery is currently retracing the evolution of Wayne Thiebaud's painting over the last 54 years, with a solo show entitled Mountains 1965-2019, until 13 December.
A forerunner of the Pop Art movement in America, Wayne Thiebaud has also attracted recent secondary market interest with a spectacular result on 14 November 2019 for his painting Encased Cakes (2011), which fetched no less than $8.5 million at Sotheby's New York. This resounding success – for a work created when he was 91 – proves that collectors do not always shy away from 'later works'.
With a new auction record every year for the last four years, the market for the work of the abstract painter of Cuban origin, Carmen Herrera, is extremely buoyant. In March 2019, her Blanco Y Verde (1966/67) sold for $2.9 million at Sotheby's New York.
At over a hundred years old, Carmen Herrera is still painting. In 2016 she joined the powerful Lisson Gallery and had shows in prestigious venues like the Whitney Museum.
SUN Qifeng (1920) – 2019* auction turnover: $1.9 million
Sun Qifeng's market is extremely dynamic with an average of over 100 works exchanged every year in Chinese auction houses. He is one of the great masters of traditional Chinese painting and is still active. He is also Director of the Chinese Artists Association and Chinese Calligraphers Association, a professor at the Tianjin Academy of Fine Arts and a committee member of the Beijing Research Institute of Chinese Painting.
In June 2019, two of his drawings appeared for the first time in an American auction. Fetching $10,000 and $11,875 at Christie's, the two small works were from the family collection of Yale University journalist and professor Howard H.S. Chao, to whom Sun Qifeng had dedicated the two drawings.
A key figure in Japanese abstraction, Toko Shinoda crossed the paths of some of the greatest American painters of the post-war period without ever turning her back on the traditions of her country. Although she briefly tried painting with oils and acrylics, she never gave up working with India ink.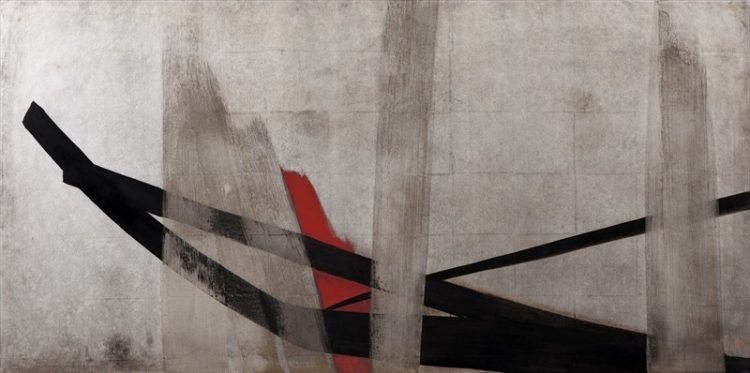 Toko Shinoda – Cherishing (1977)
Her works remained very affordable for a long time, but have been rapidly gaining value over the past decade, as the last three auction results for her Cherishing (1977) in Tokyo show:
– $10,600 on 25 April 2008 at Mallet Japan
– $23,950 on14 July 2016 at Mallet Japan
– $36,200 on 20 January 2018 at Mainichi Auction
* From 1 January 2019 to 25 November 2019